Project House on the Lake
This woodsy log cabin in Ontario's Muskoka cottage country is the perfect retreat for this Toronto couple. With views from every angle, this house on the lake features rich colours inspired by its pine wood structure, surrounding lush landscape, and crisp waterfront.
Features Living Room, Dining Room, Primary Bedroom, Loft, Guest Bedrooms and Study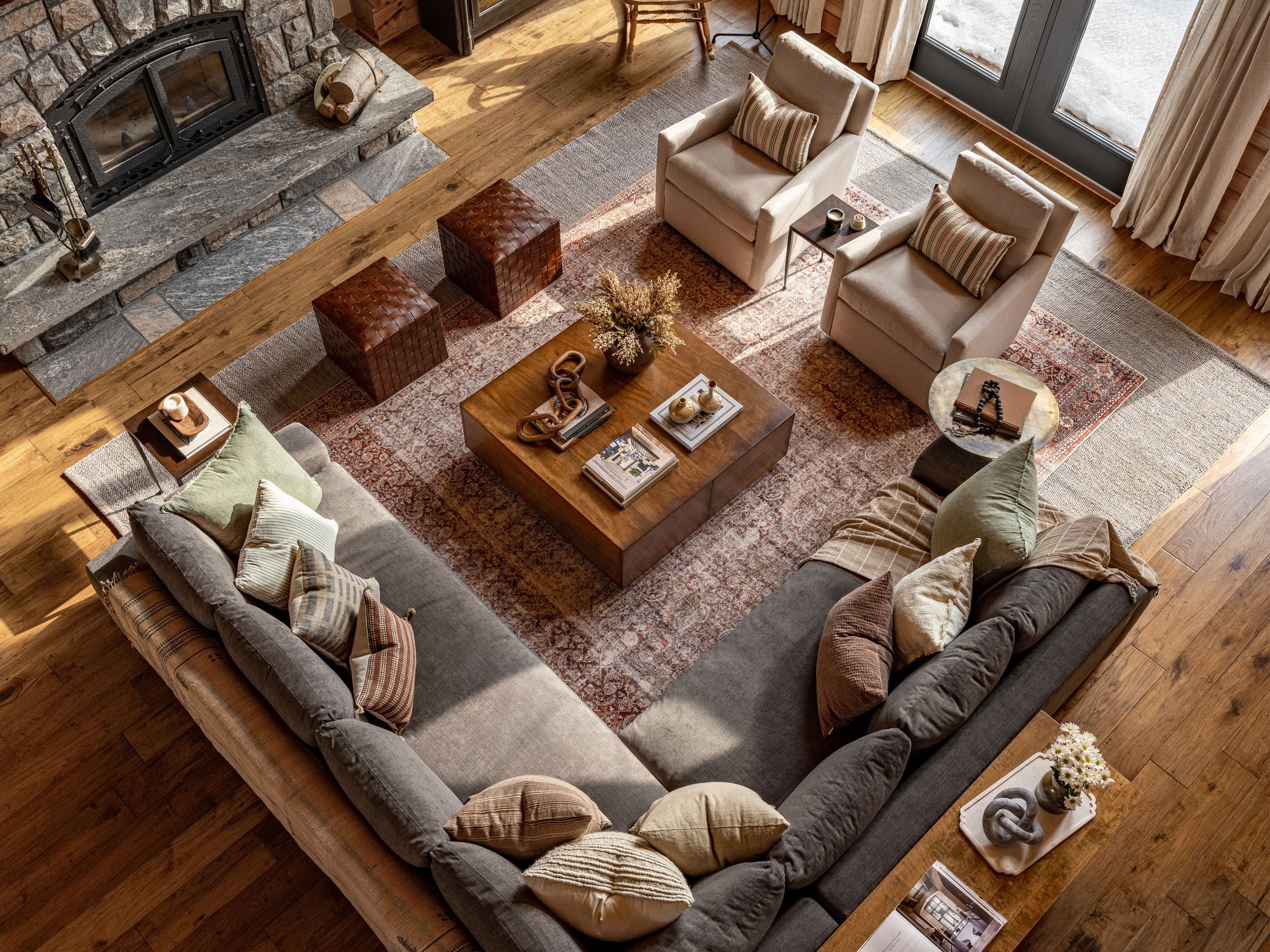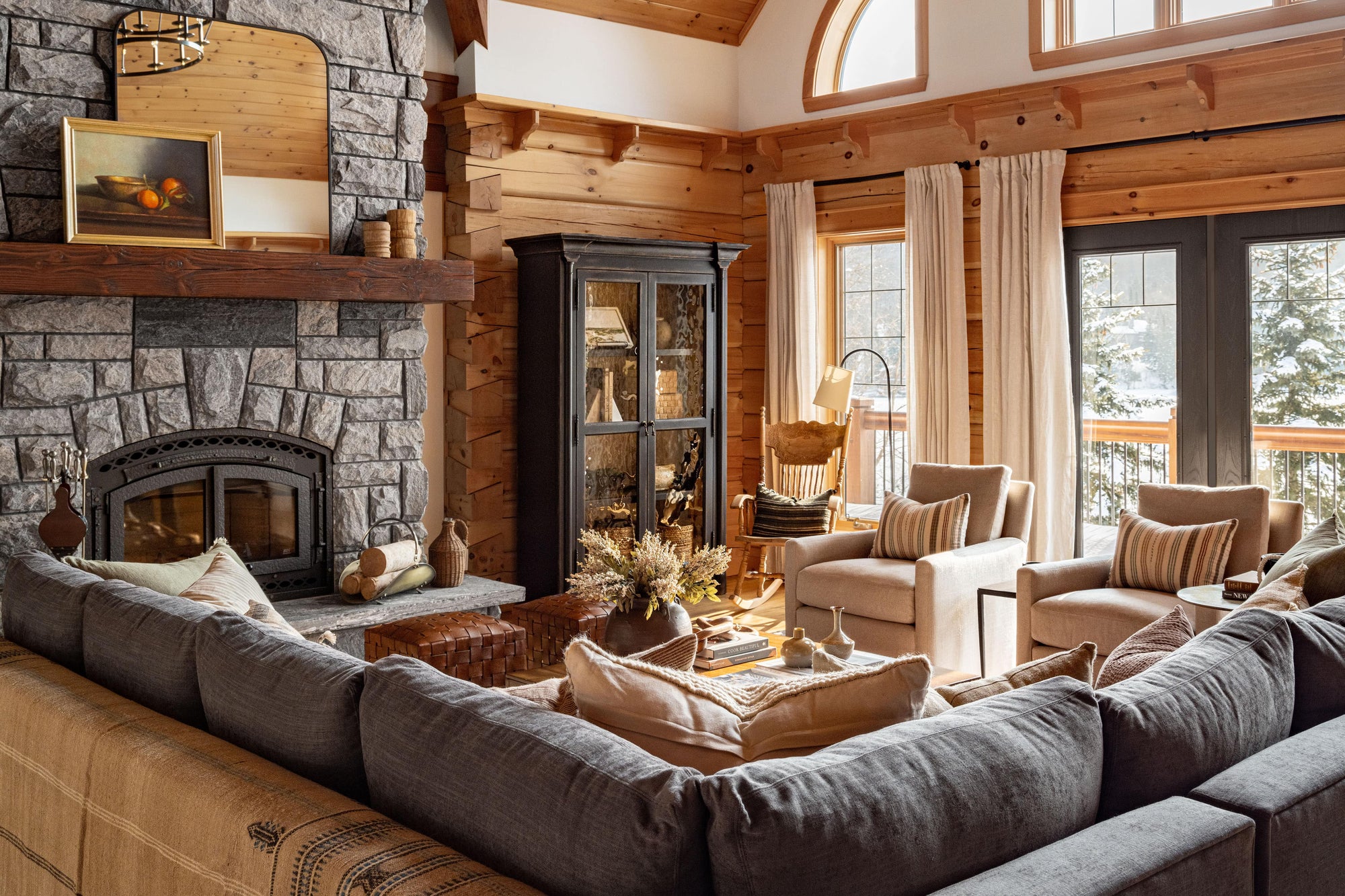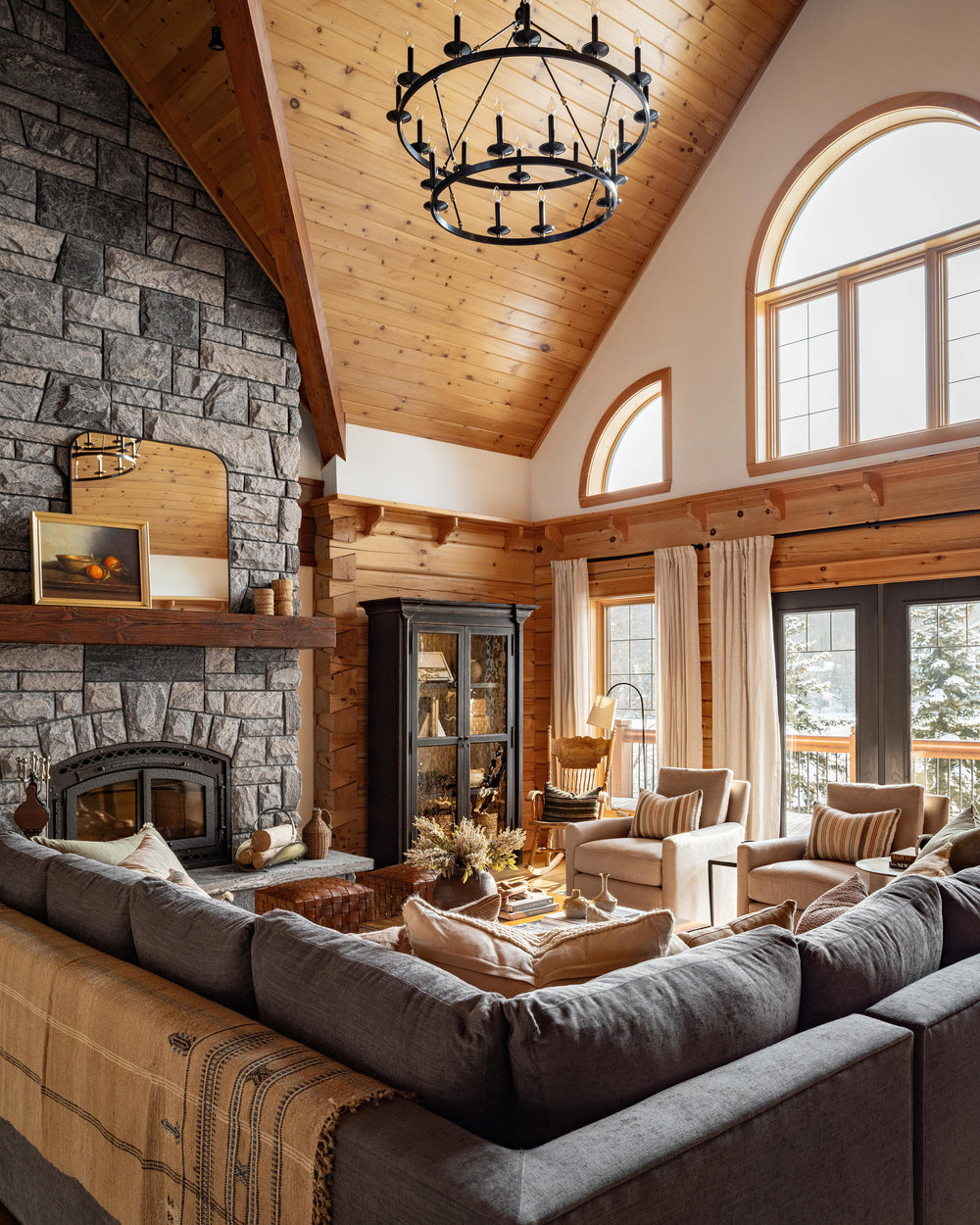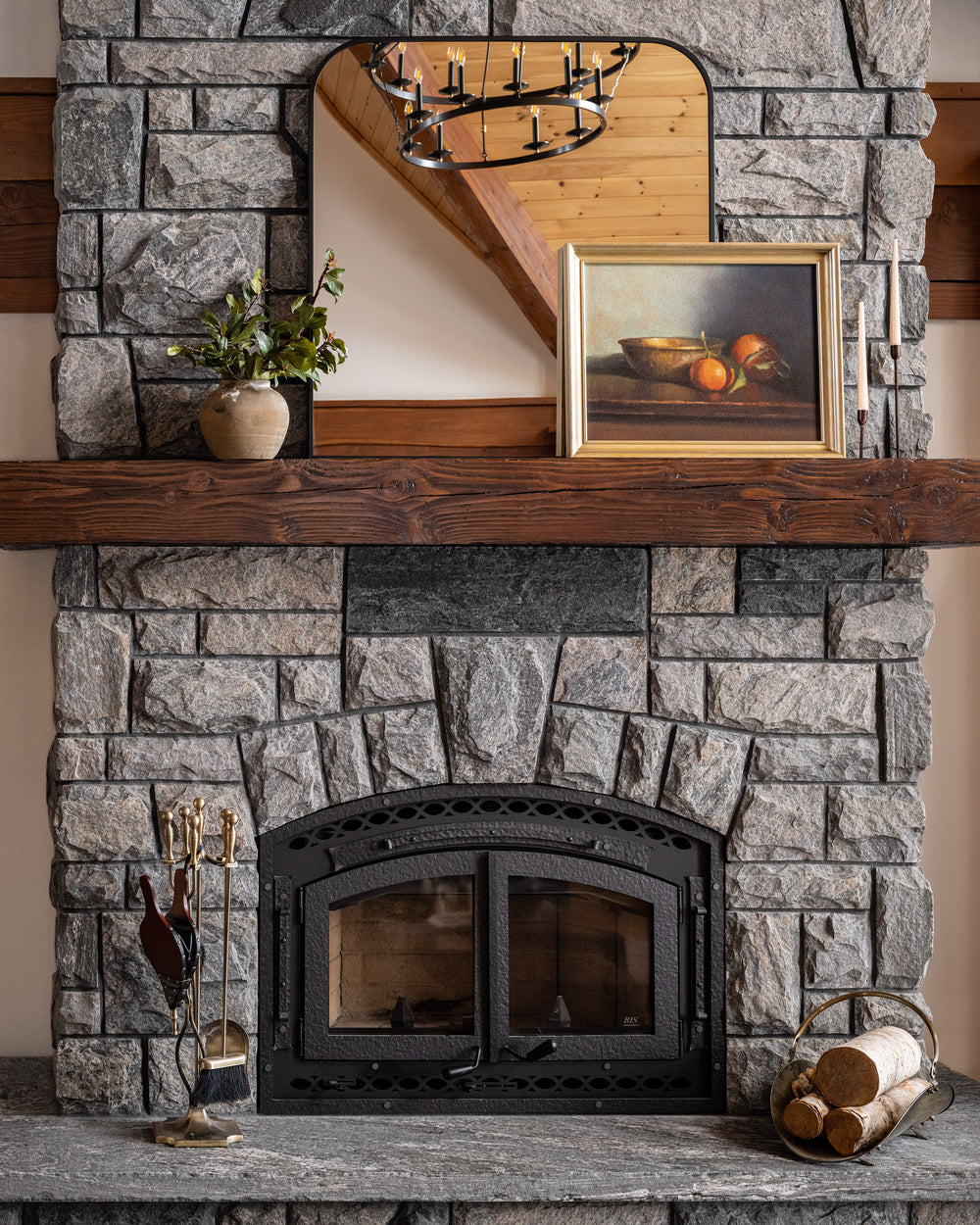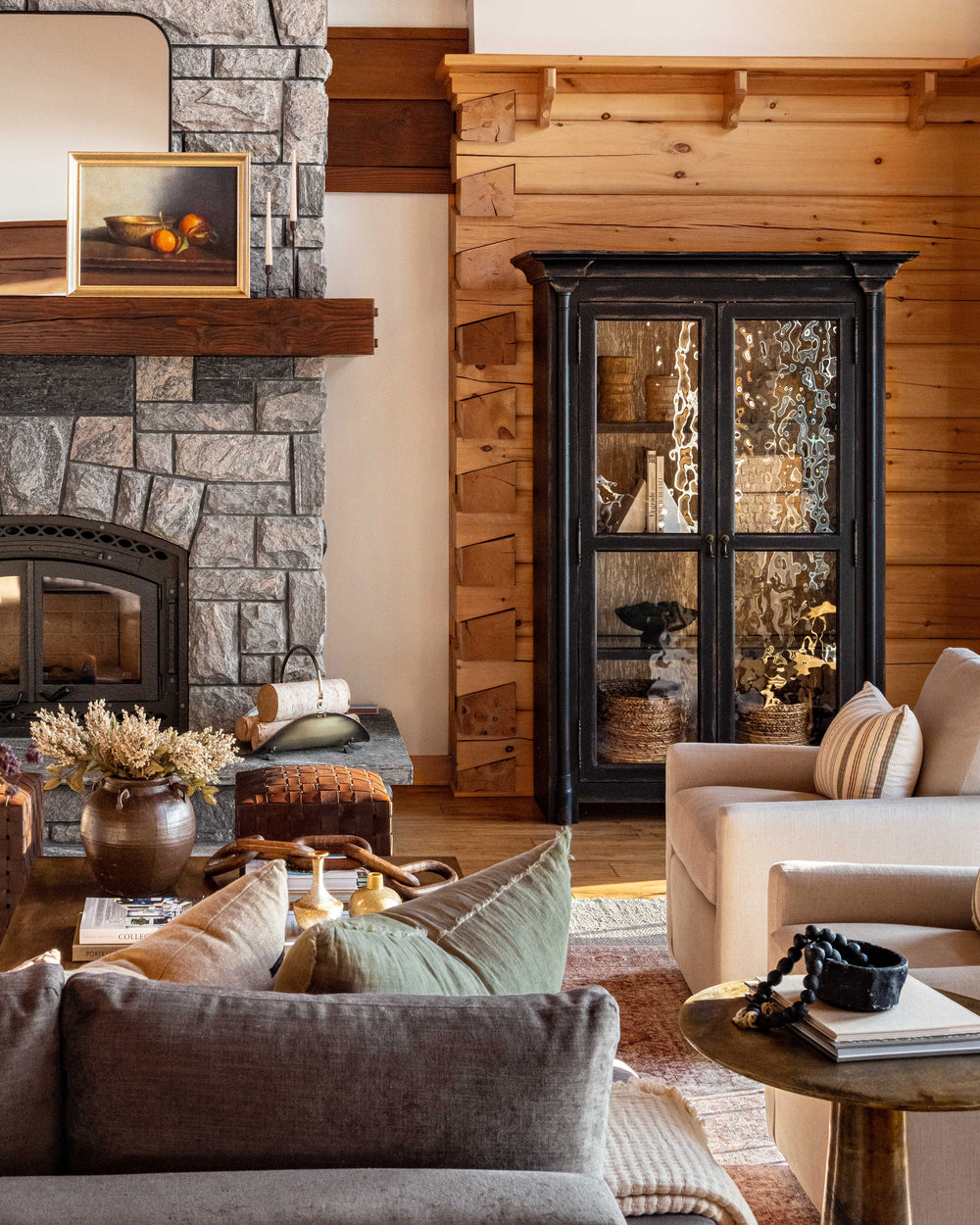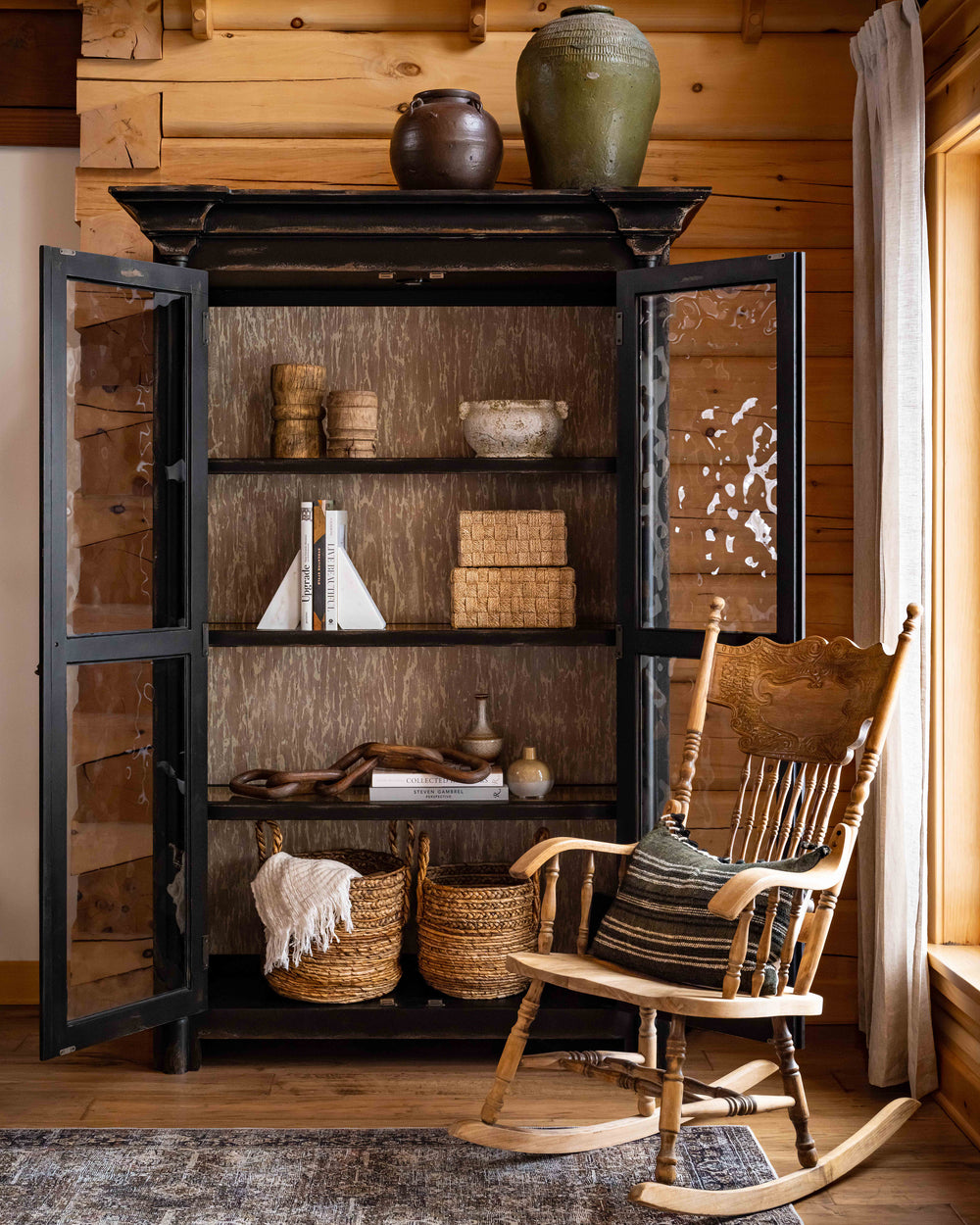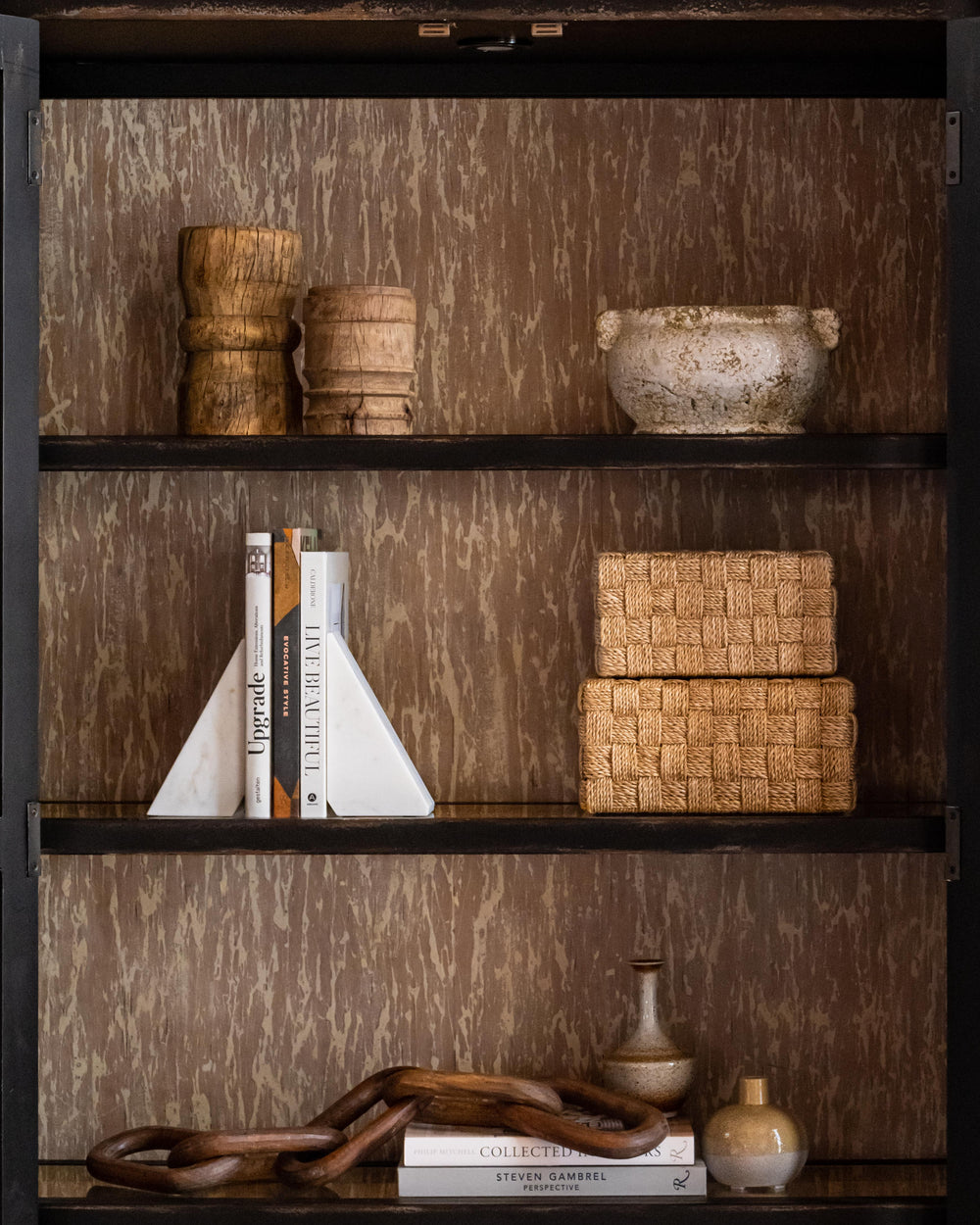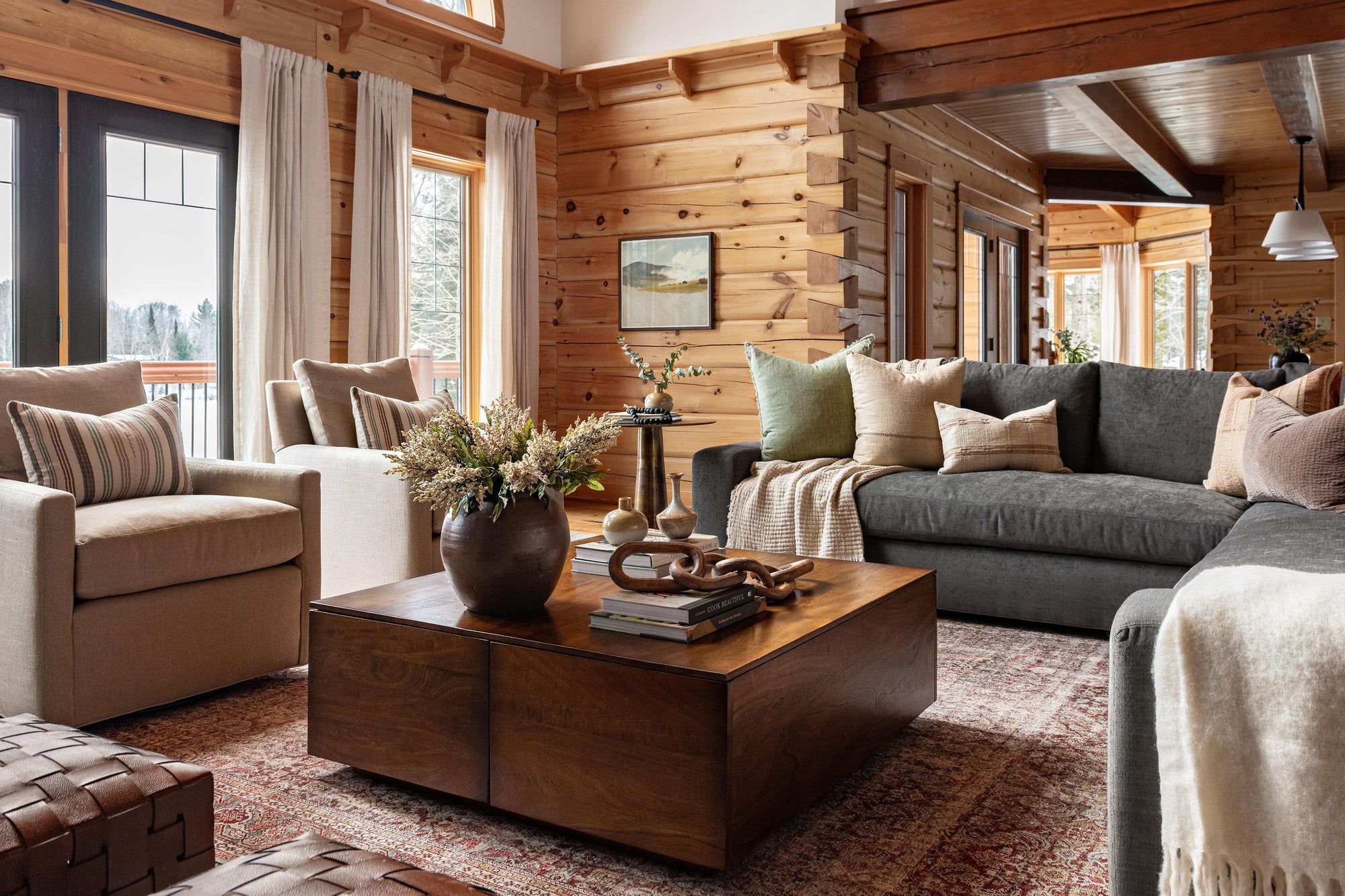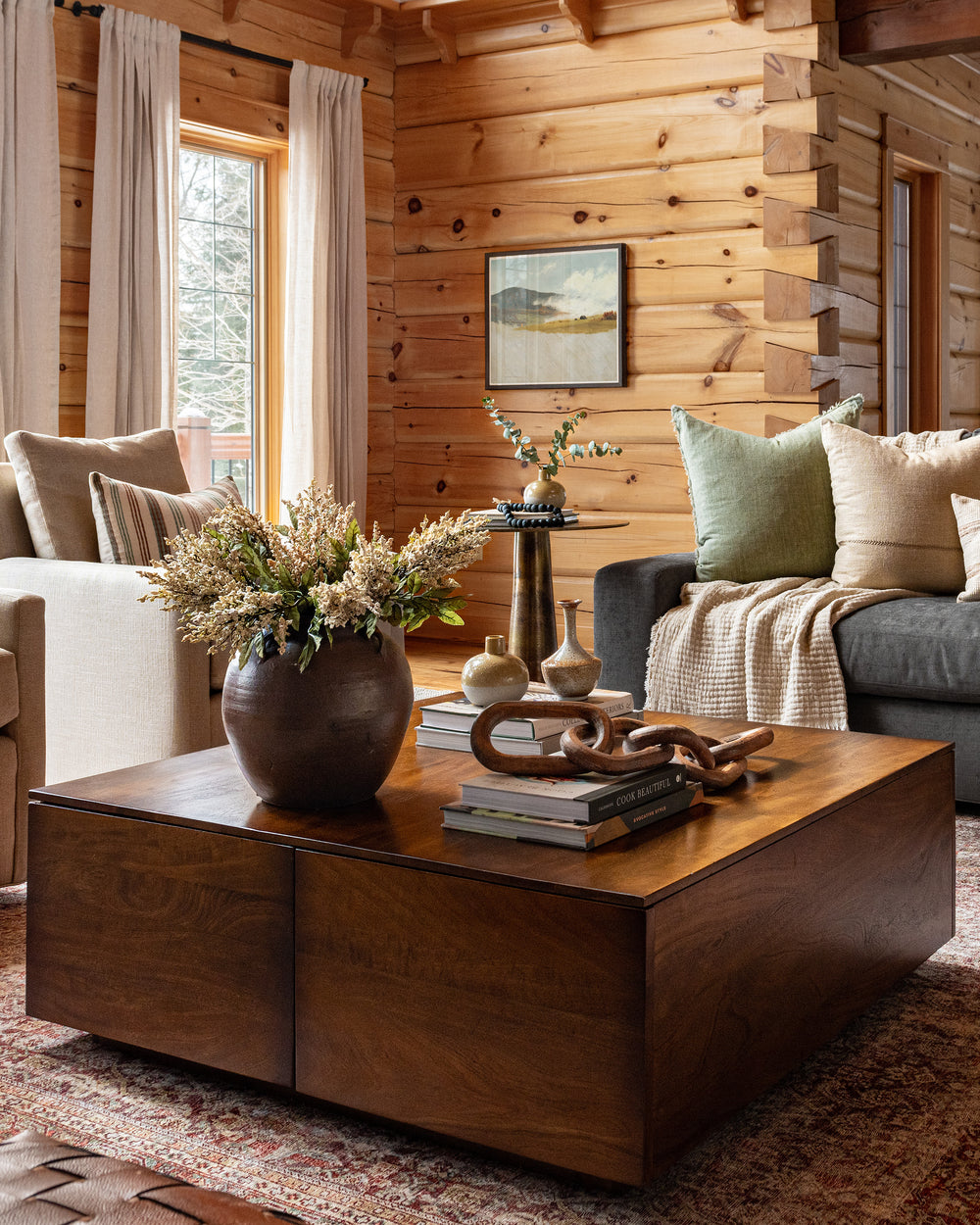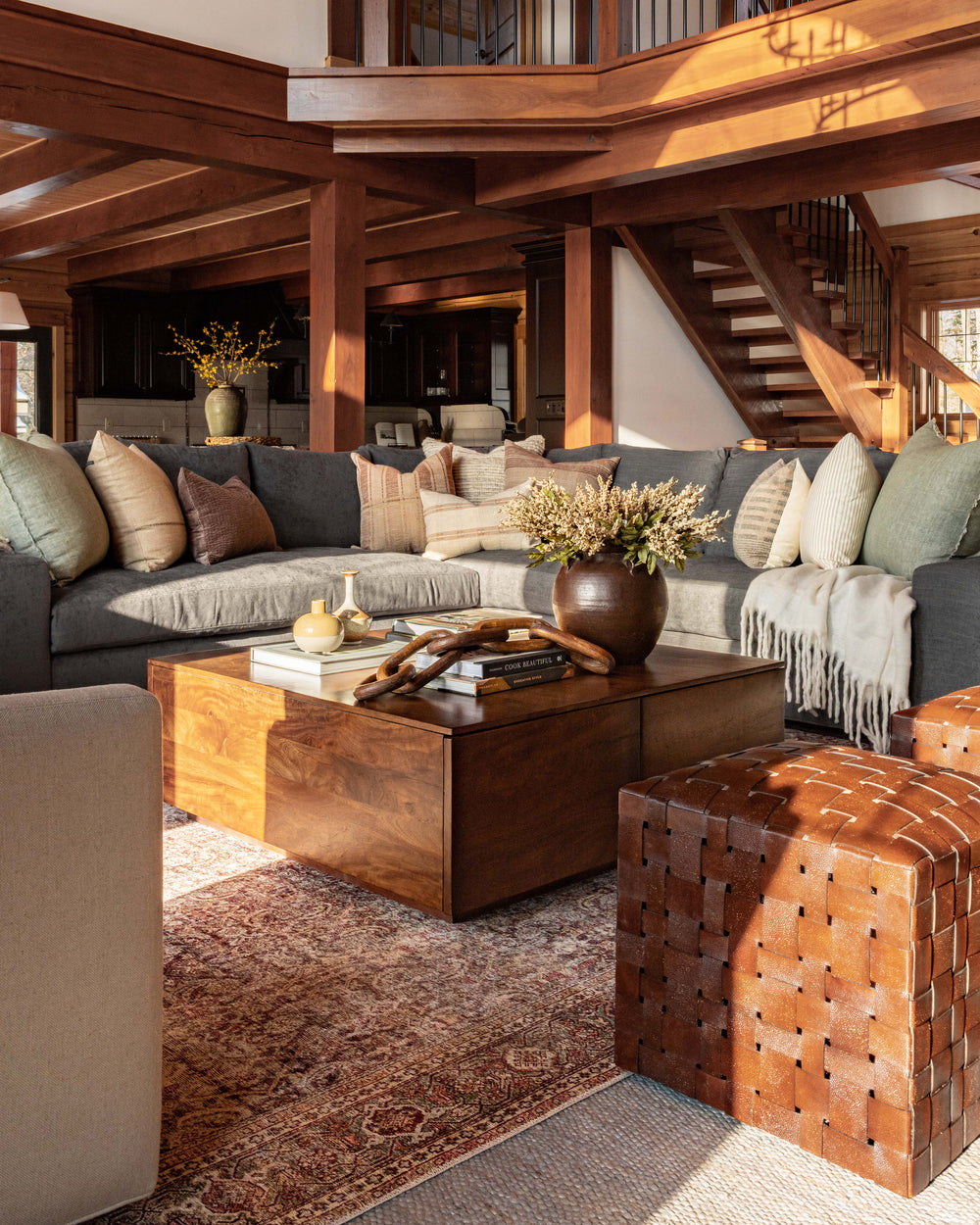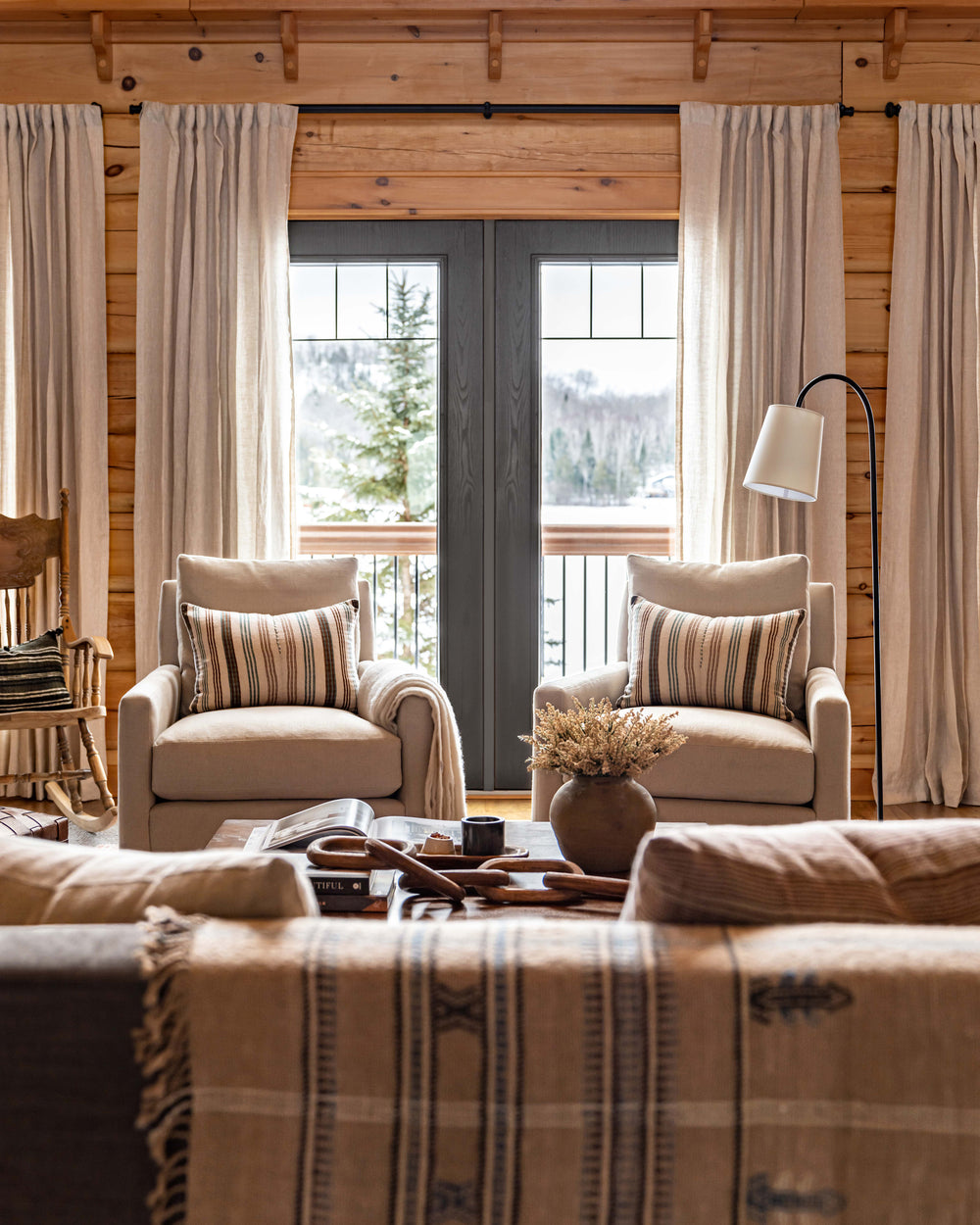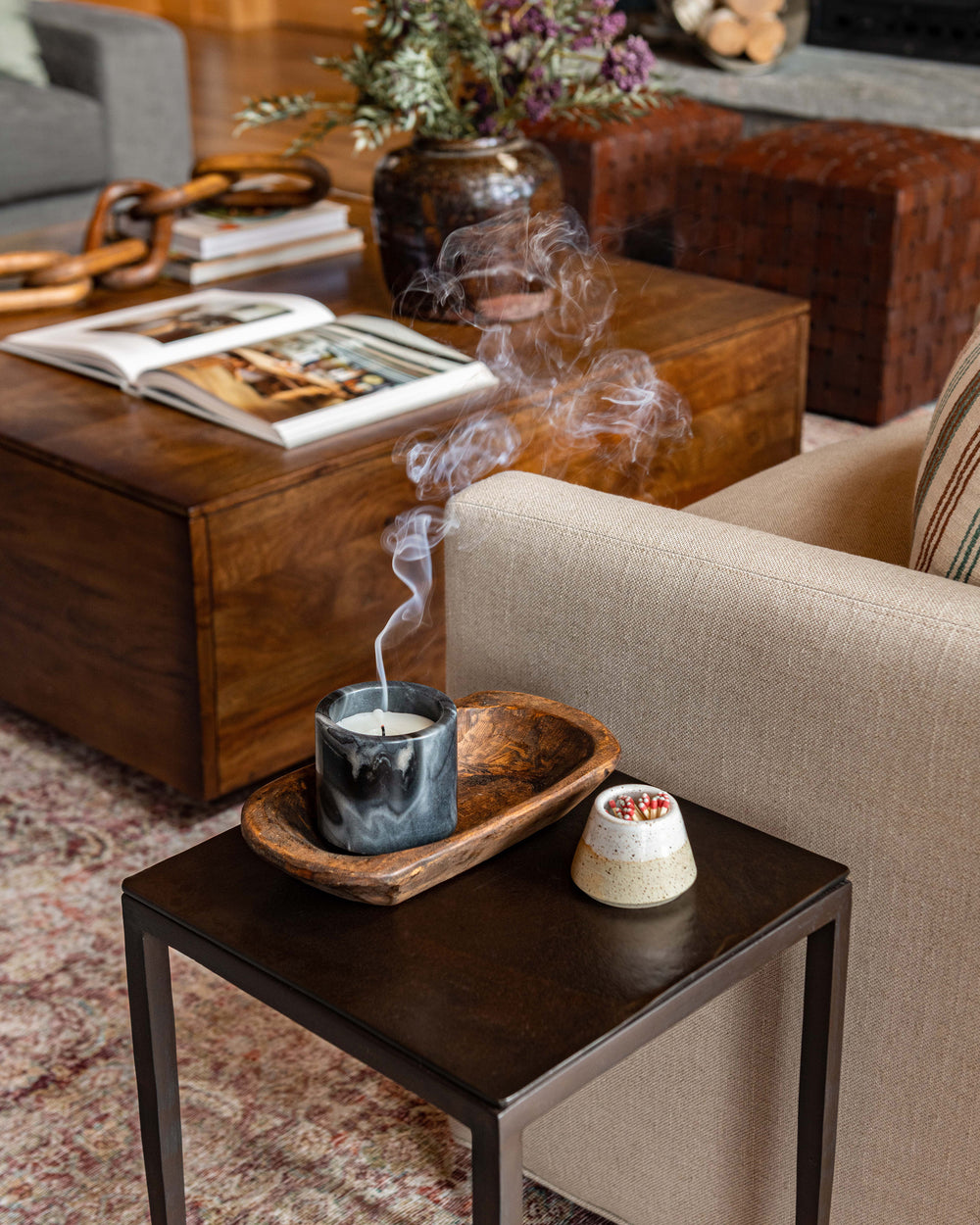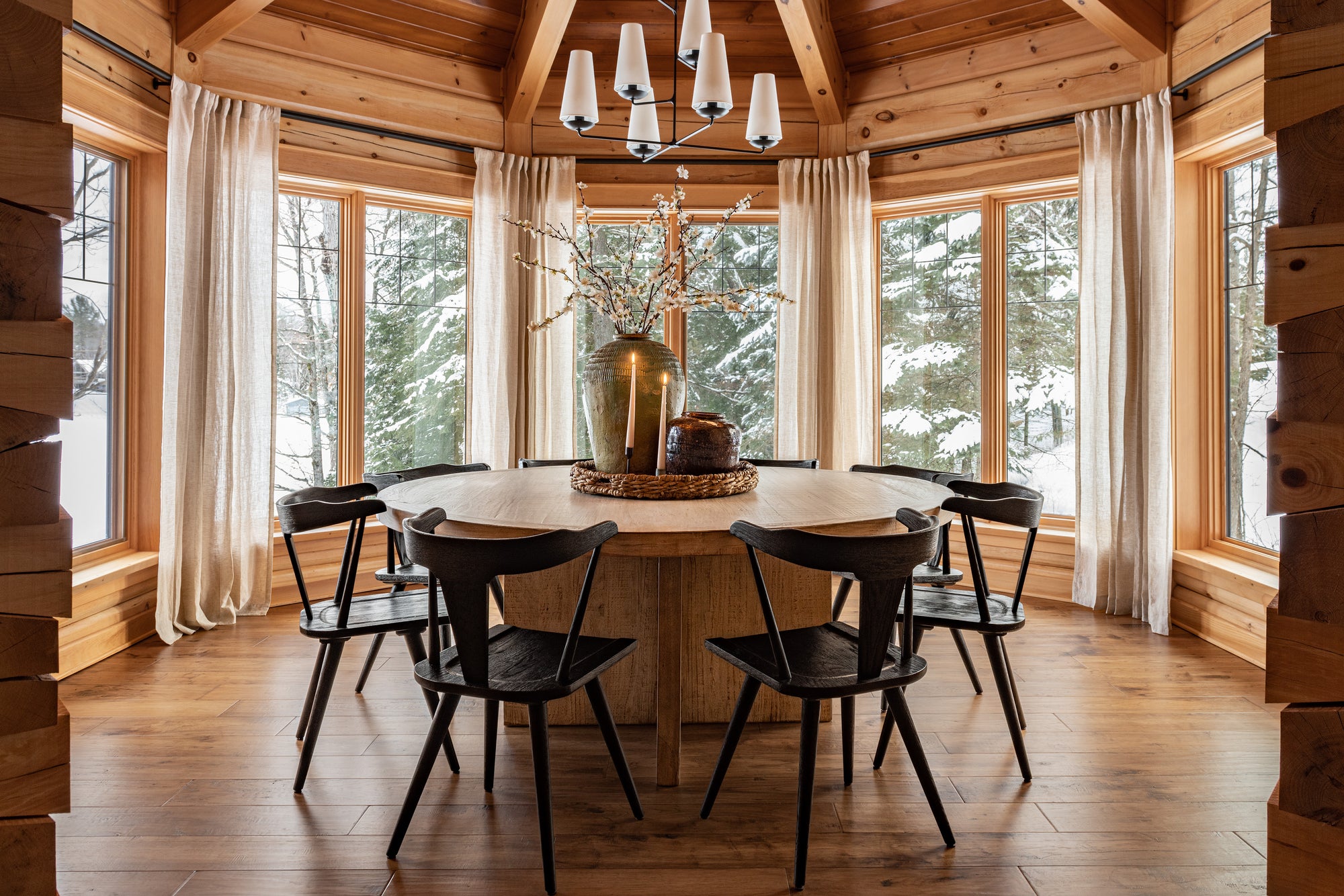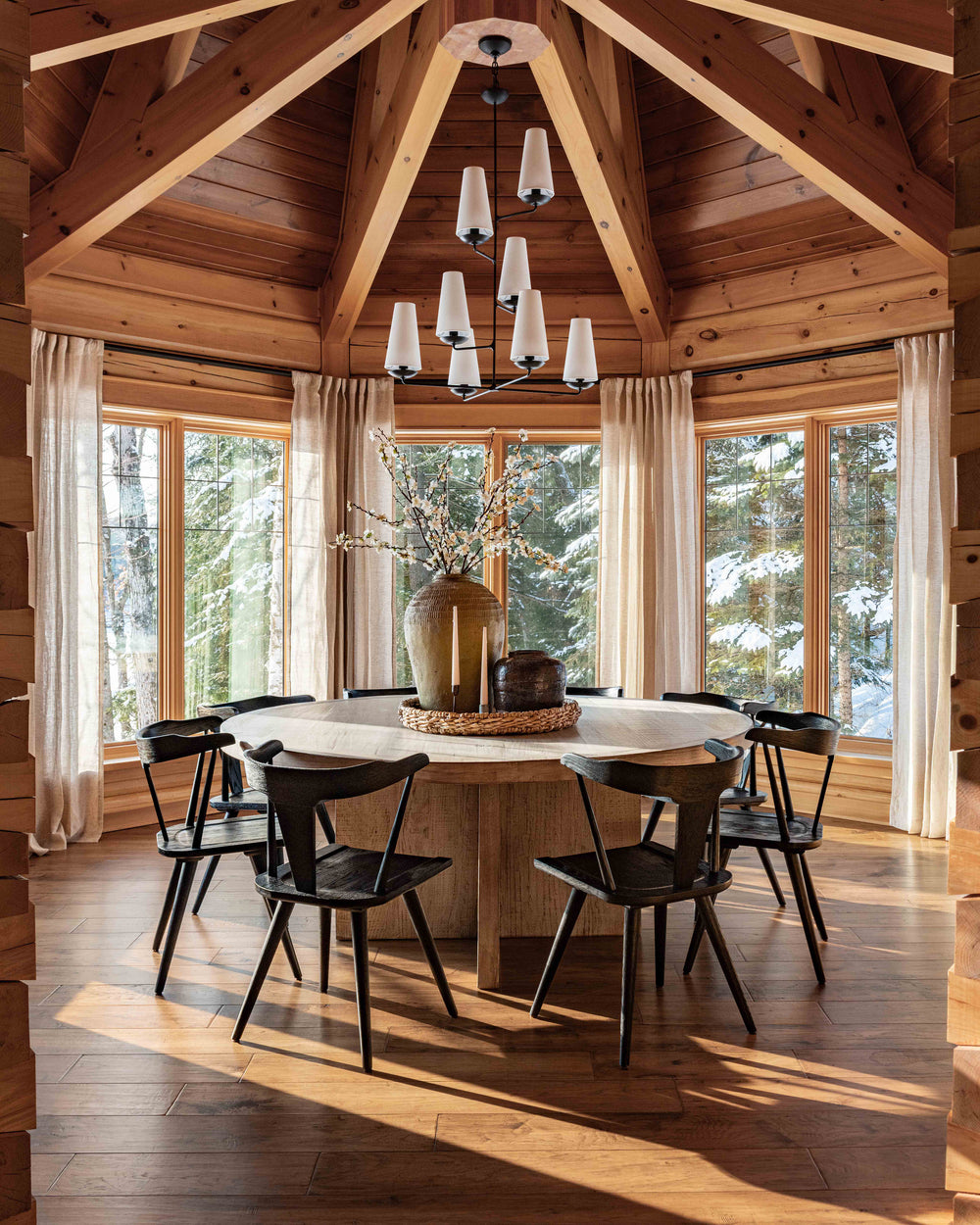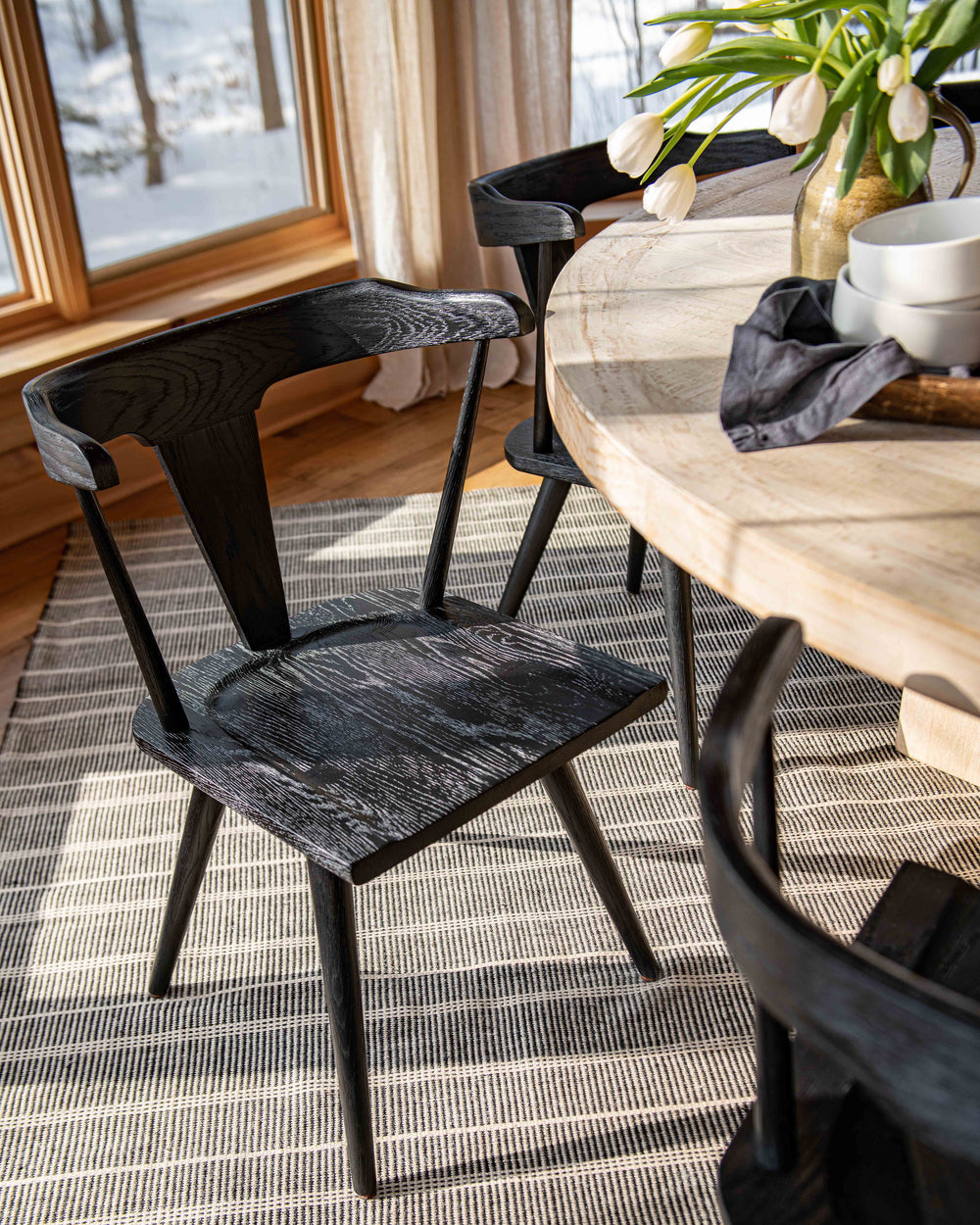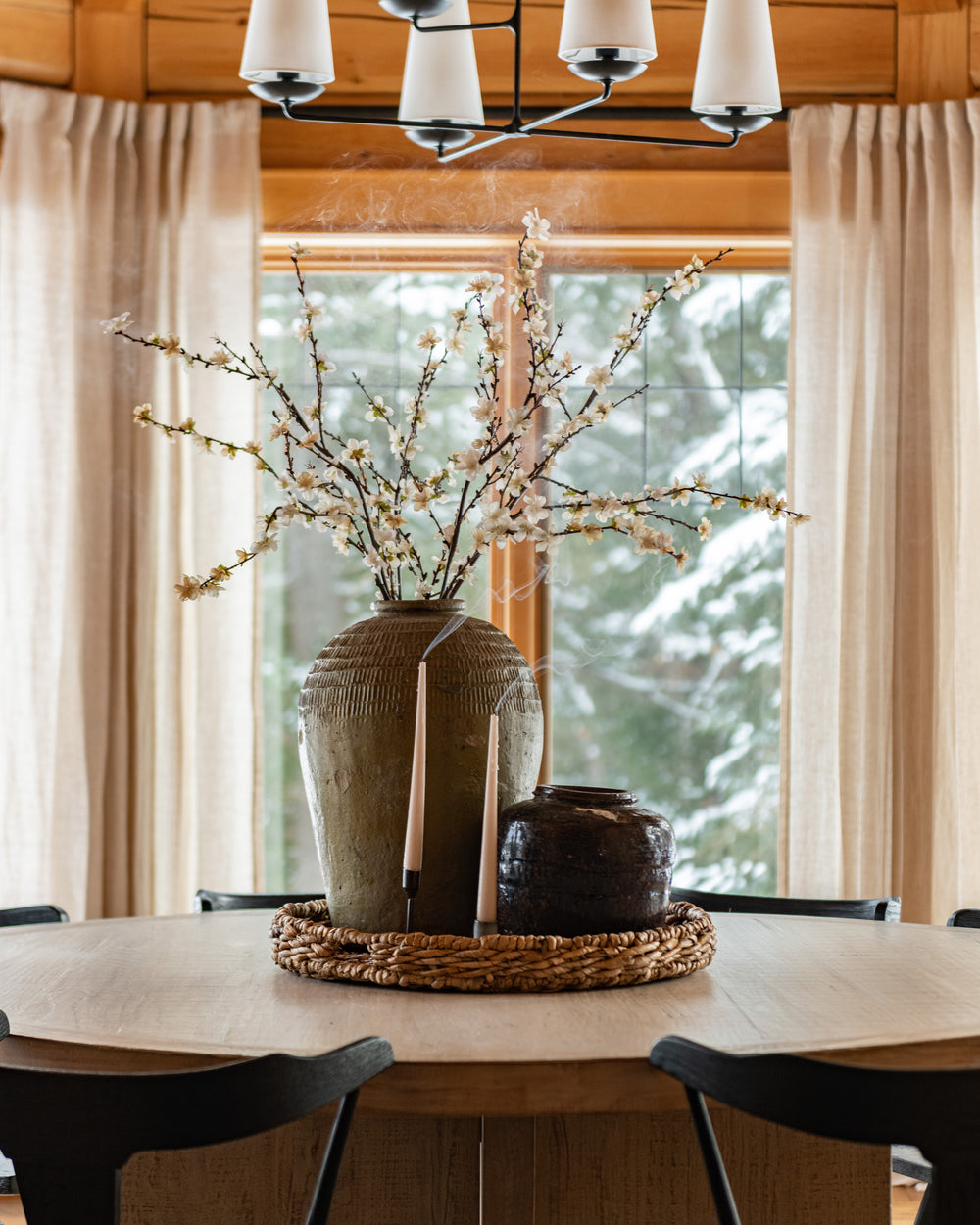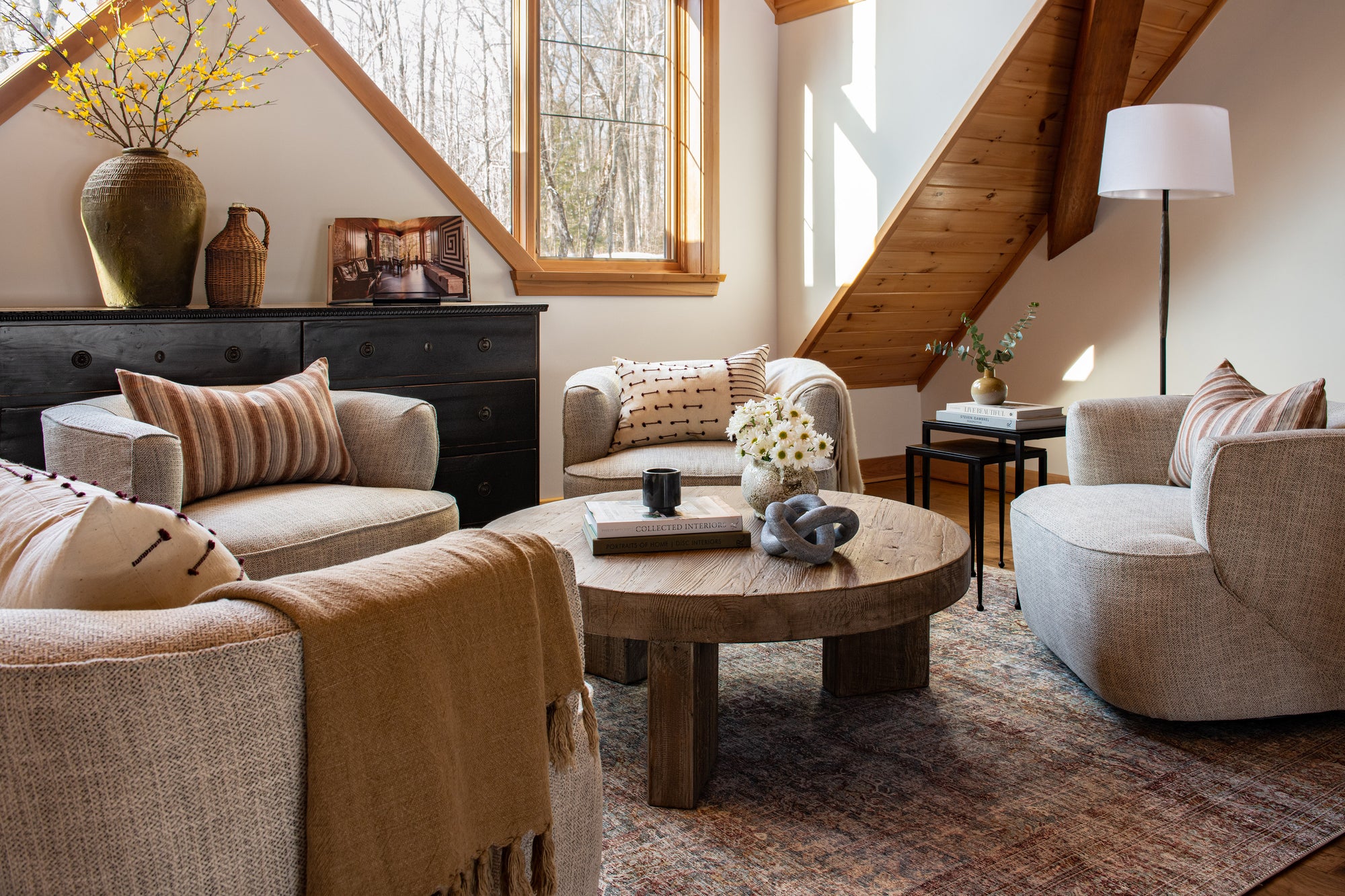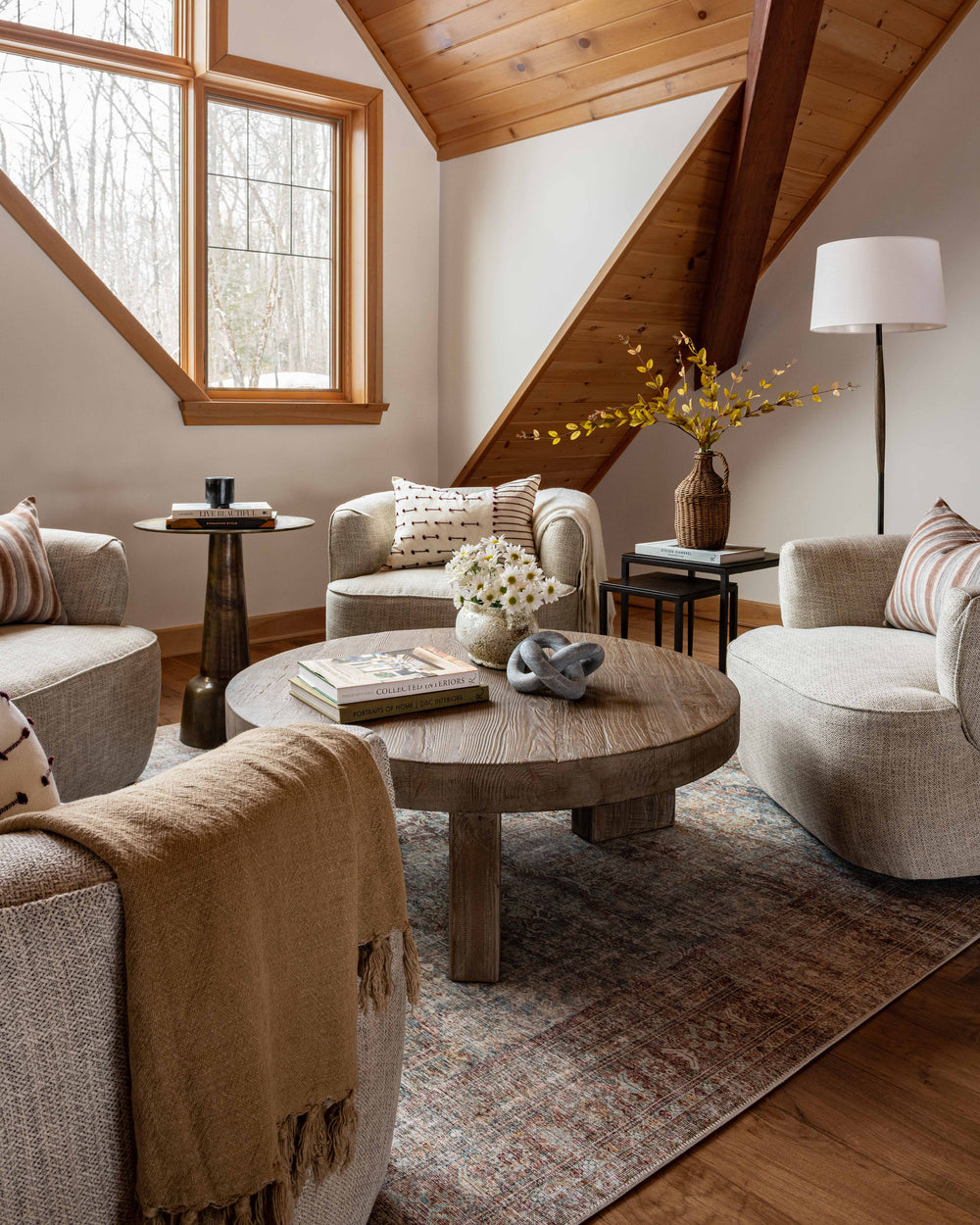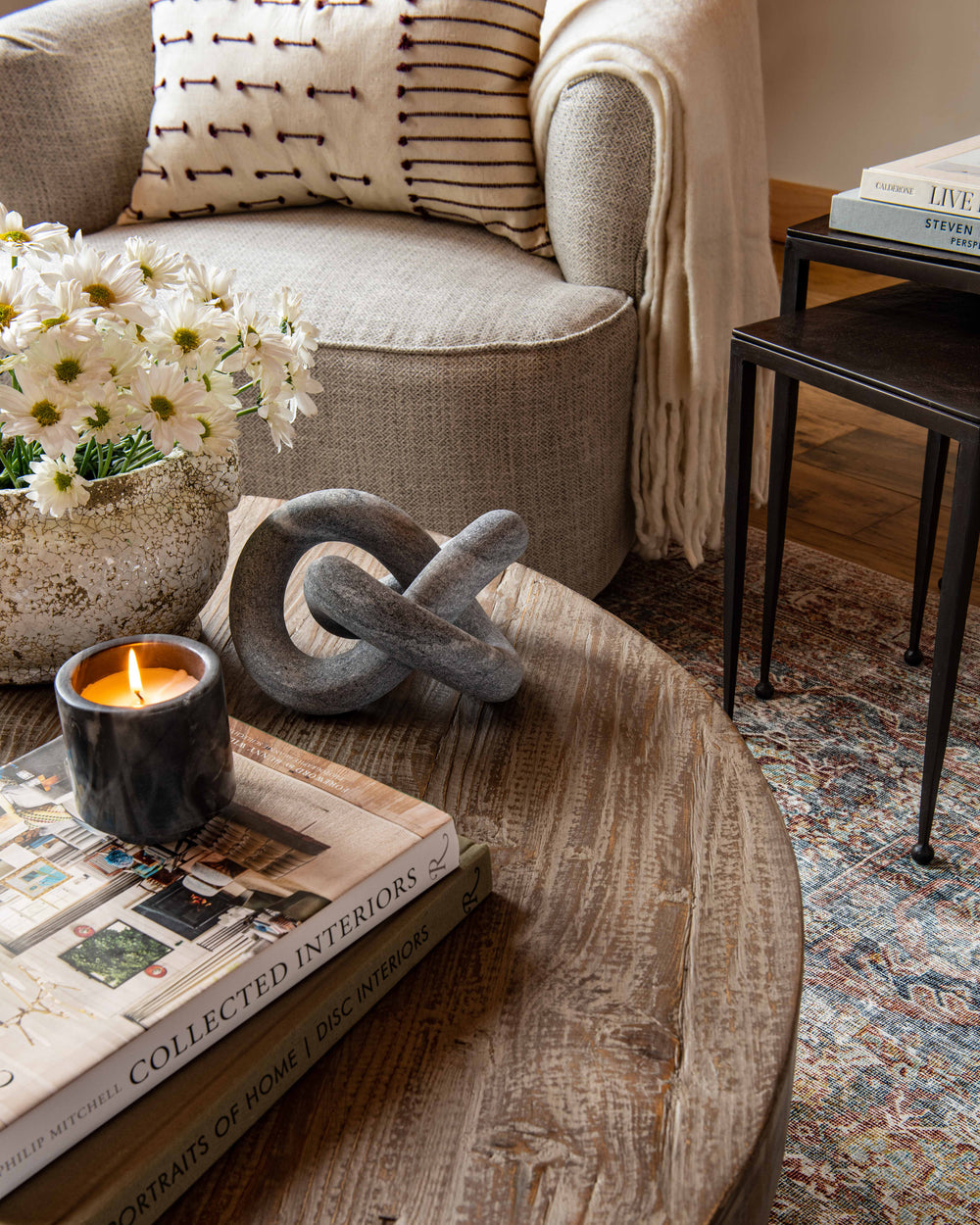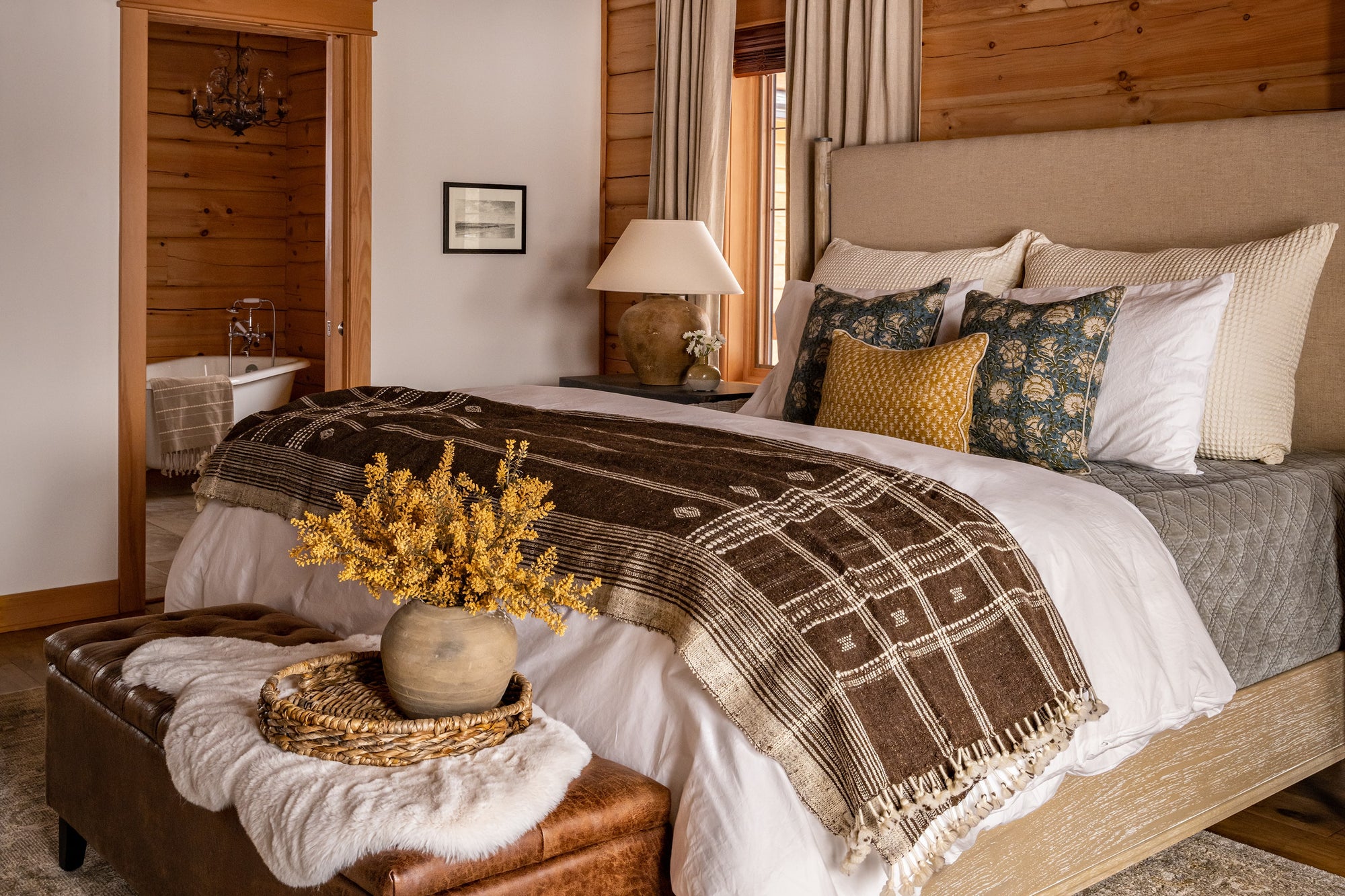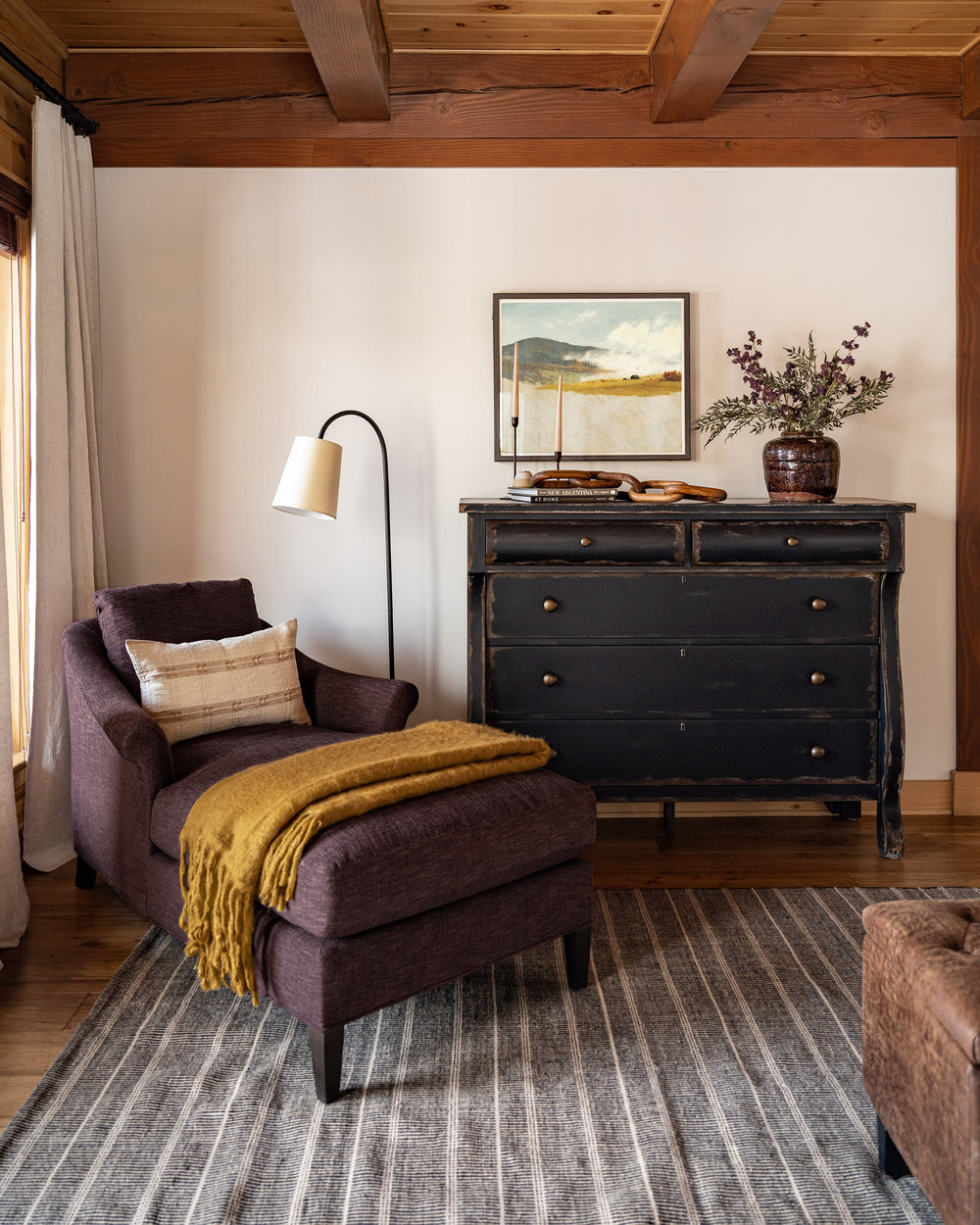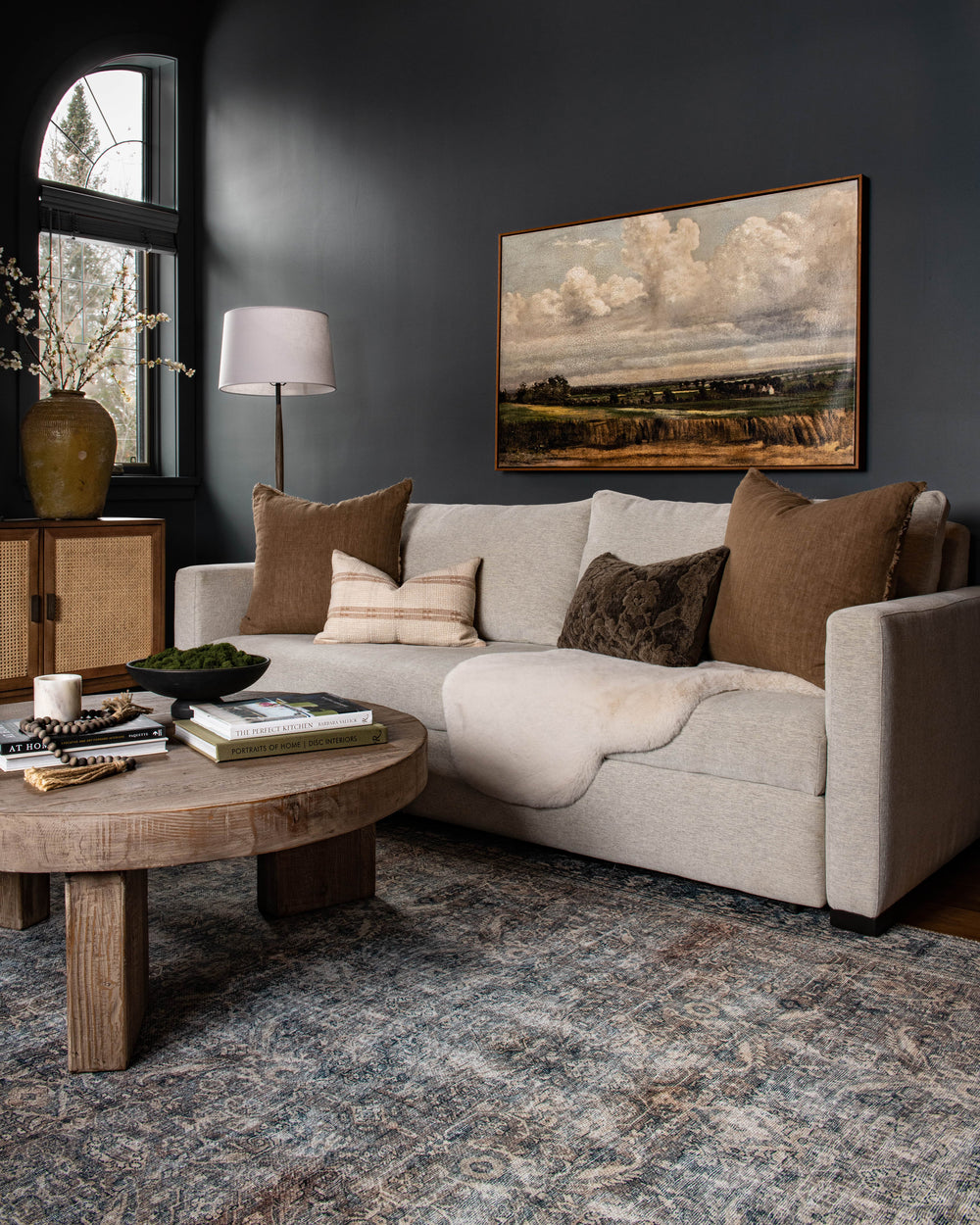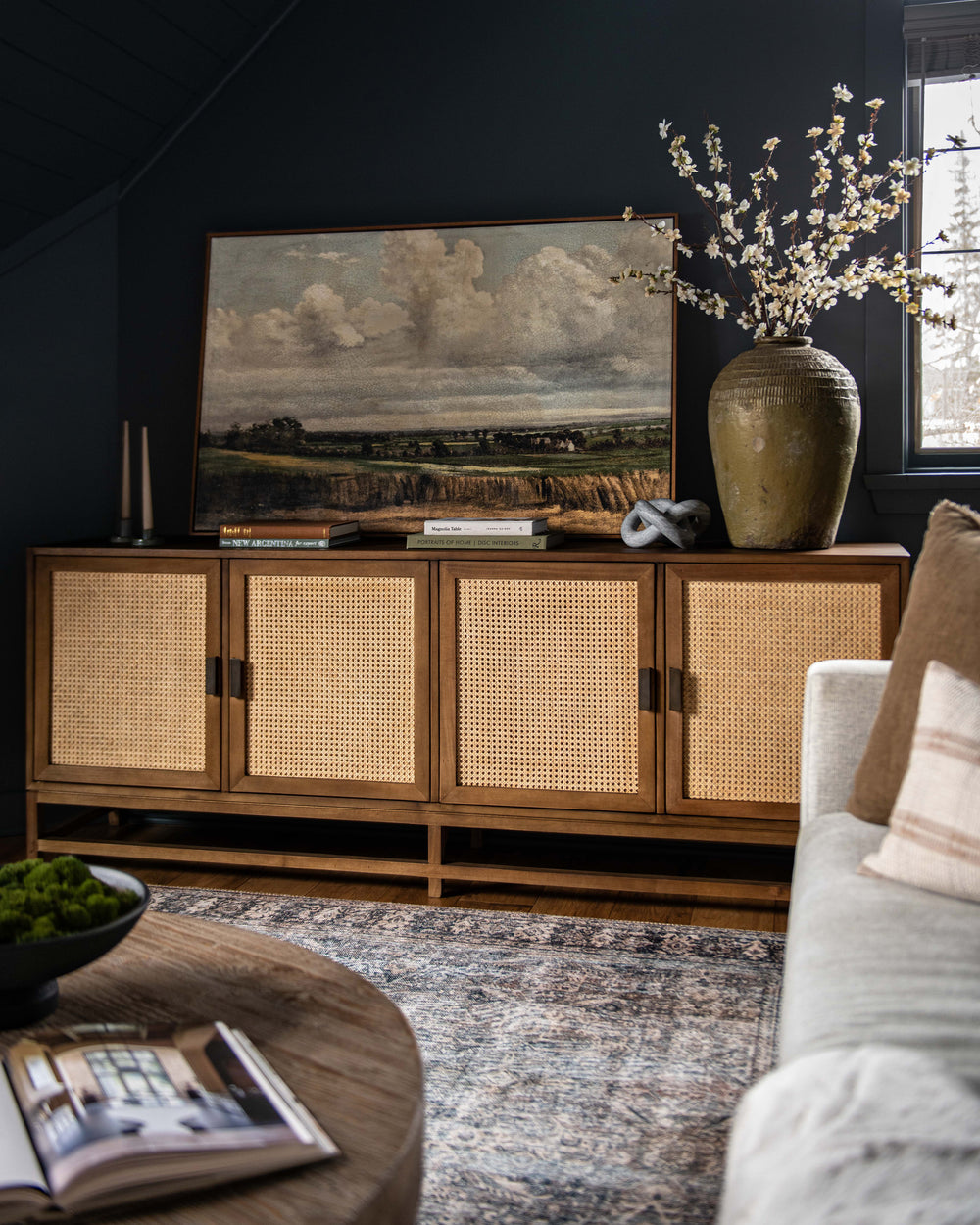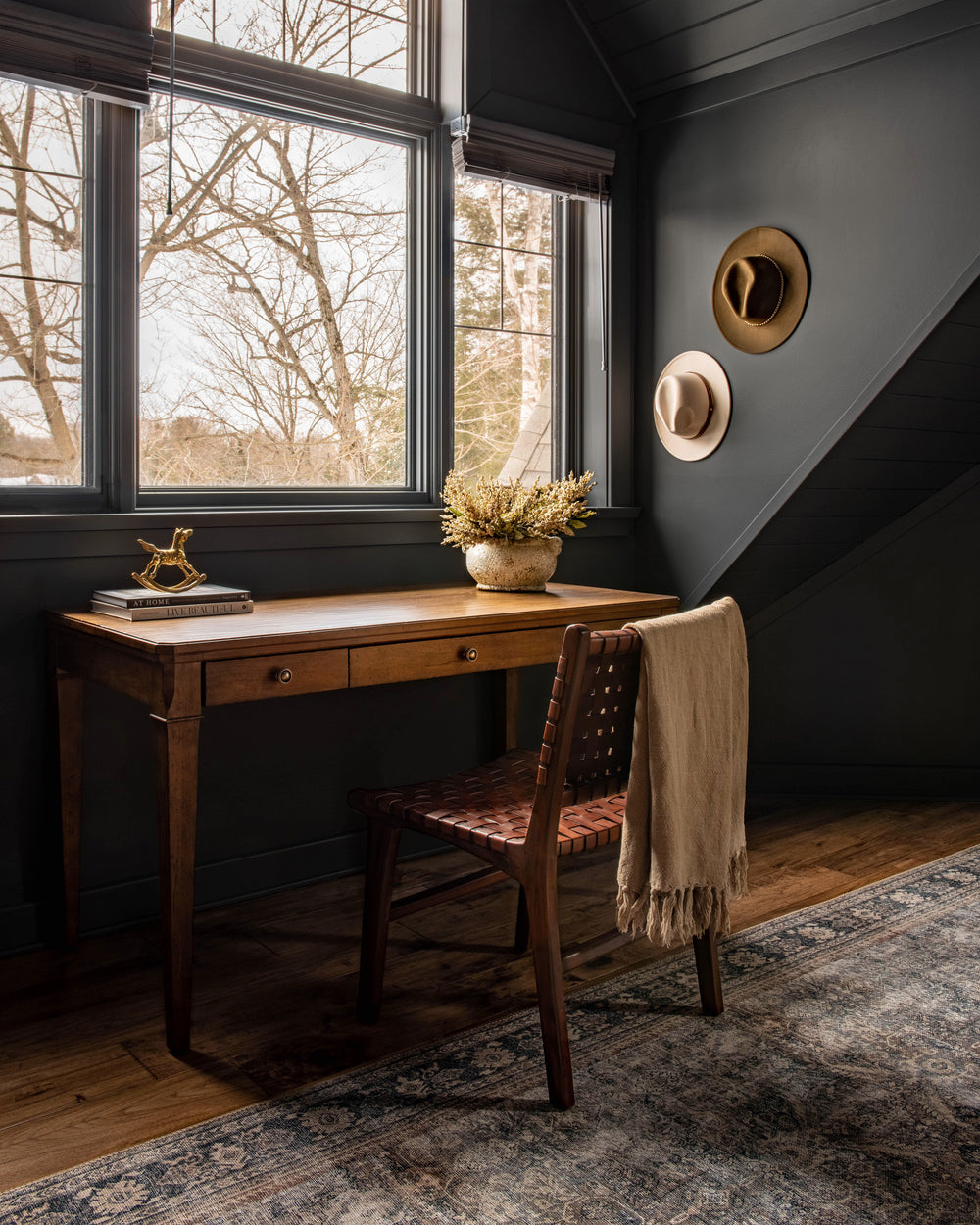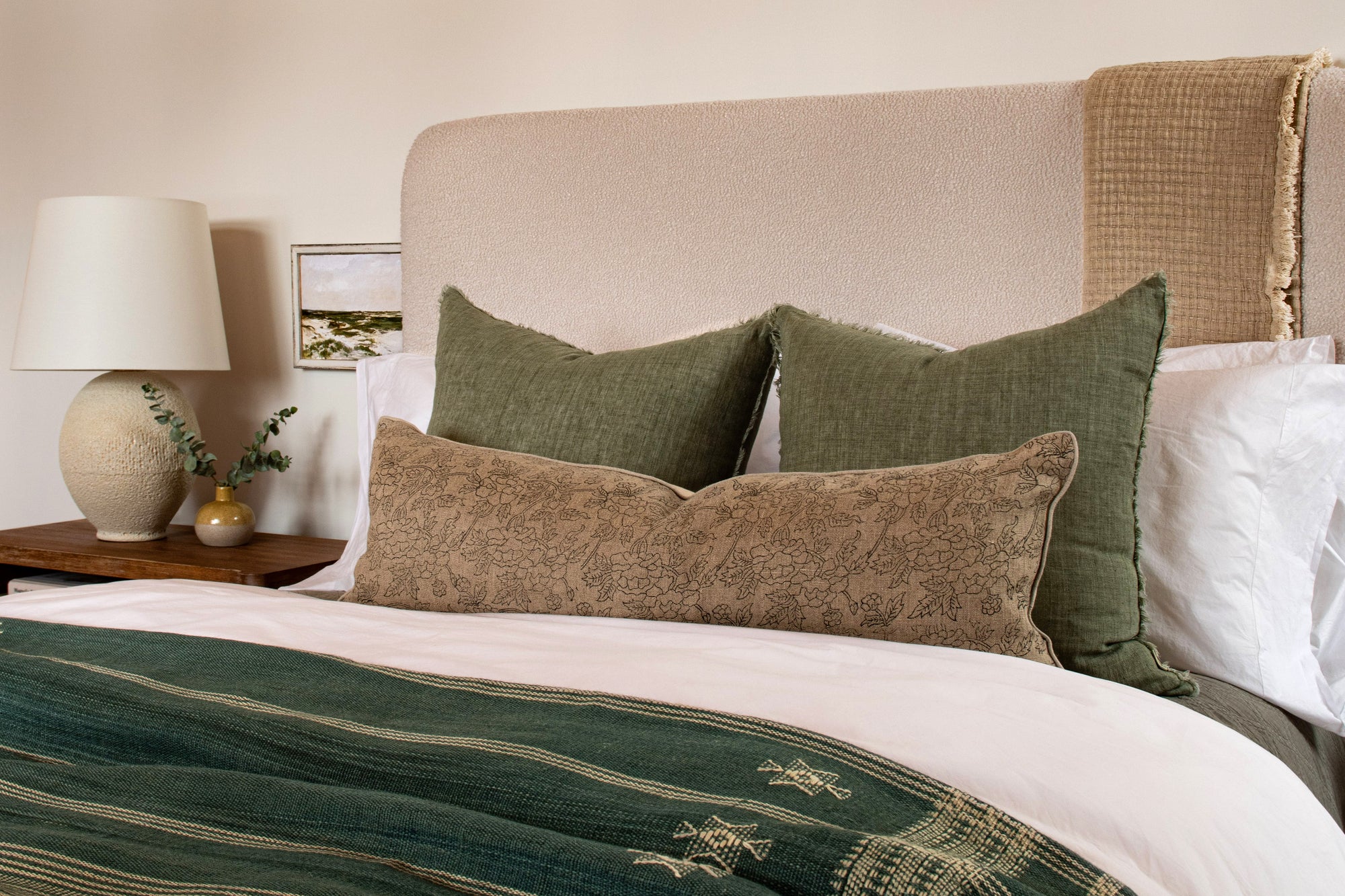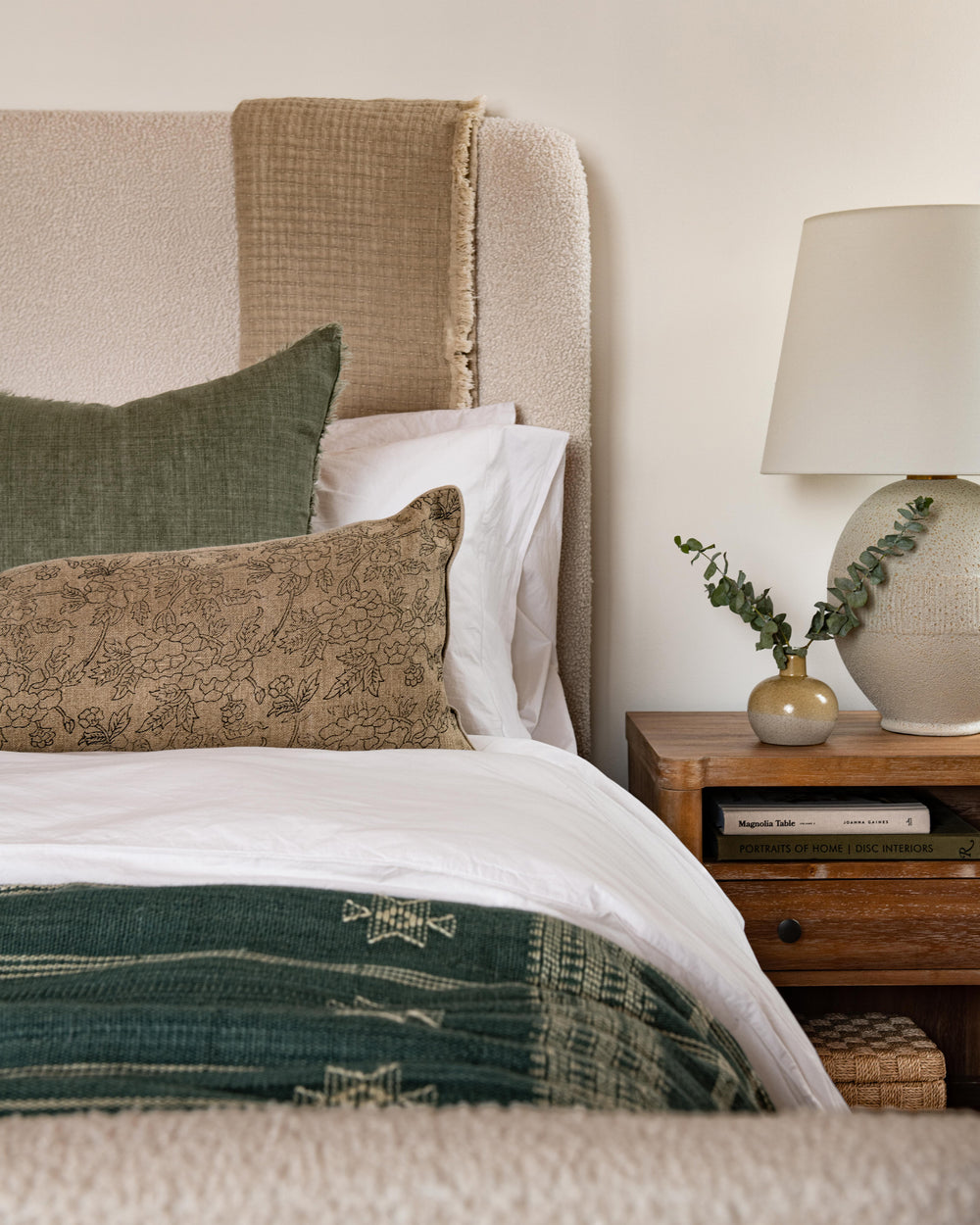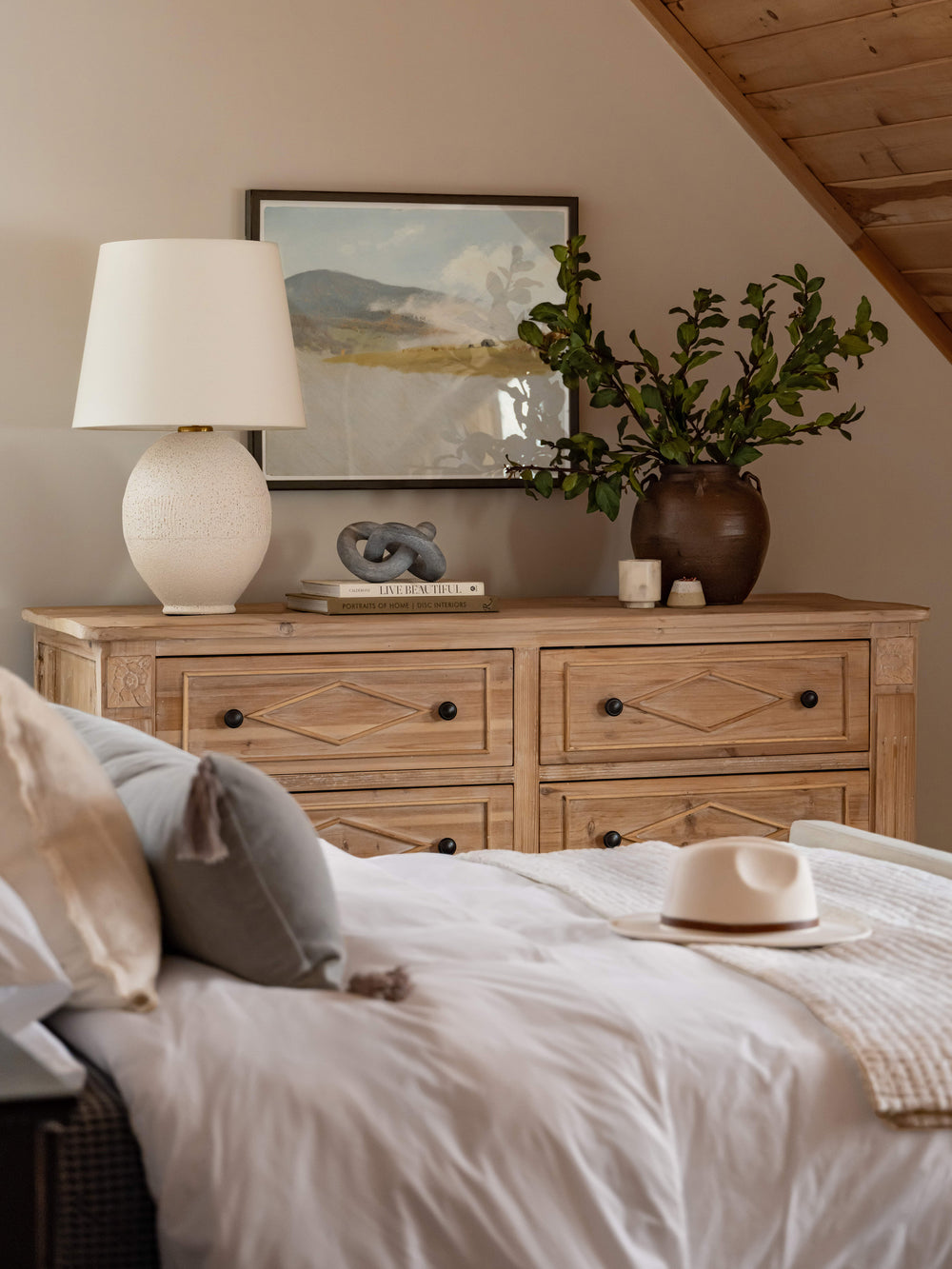 Living Room
In the living room, the main focal point is the double-height windows with a gorgeous view. The large stone wood-burning fireplace creates a chalet feel, that also draws your eye up to the oversized black and brass two-tiered chandelier. We pulled the tones of the fireplace stone into this charcoal sectional from our WoM Collection. To counterbalance the cool greys, we opted for our rich, spice-toned Layla Area Rug layered overtop a larger simple jute rug. The colours of the throw pillows and blankets pull the tones of the rug to create a perfect spot to cozy up by the fire.
Also Shop: Coffee Table, Cabinet, Artwork 
Dining Room
The gorgeous architecture of this round dining room allows it to be flooded with light. To frame the grand windows, we added some flowy linen drapery in a flax colour.
We kept the selections simple and classic with a round wood dining table to seat eight of our favourite Hinton Dining Chairs. A tiered iron Fontaine Chandelier with linen shades offers the perfect mood lighting for any dinner party.
Primary Bedroom
We had so much fun styling this primary bedroom. The windows and french doors that lead out to the back are so inviting; we wanted to make sure the pieces we selected tied together to enhance that feeling.
The Castine Bed neutralizes the bold wood log wall with its high linen headboard, while the black vintage-inspired Estoril Nightstands add contrast on either side. Our favourite Calabria Table Lamps pull the tones of the wood features and add a hand-made, artisanal-looking touch. Leather, fur, and textural kilim create a made-to-live-in space. 
On the opposite wall, we added a really fun pop of plum on a lux chaise (also from the WoM Collection) - perfect for reading, having your morning coffee, or an afternoon nap.
Also Shop: Dresser 
Loft 
This loft is a central room that overlooks the living room on the level below. It needed to be cohesive with downstairs, but also a designated area to be a meeting spot, reading nook, or games zone. The four oversized swivel chairs surround the round wood coffee table. We chose another vintage-inspired area rug with similar rich tones to downstairs, that tie in with the throw pillows on each chair. 
Also Shop: Side Table, Floor Lamp
Guest Bedrooms
We created two unique bedrooms that both take inspiration from their views. In the East-Facing Guest Bedroom, we pulled rich variations of green through the area rug, bedding and artwork to compliment those cool dewy mornings. In the West Bedroom, we took inspiration from sunset tones with reds, blues and bleached wood in the dresser. 
Study
The most impactful design change made to this space was painting everything (ceiling, trim, walls - we mean everything) a dark, rich blue called Flint by Benjamin Moore. We suppose answering a couple of emails while on vacation here wouldn't be so bad. Not only is this room an office, but it can also sleep two more guests with the Bedford Pull-Out Sofa Bed from our WoM Collection.  
Also Shop: Artwork