Custom Home Design & Build With West of Main Design
One of our specialties at West of Main is designing custom luxury homes in Canada and the US, specifically in Ottawa, Toronto, and the surrounding areas. Our firm's 10+ years of design experience and expertise goes above and beyond just interior finishes and styling. We handle everything from home concept and vision, to facilitating the home-building and construction process, down to selecting timeless furniture and accessories to finish off your new home so that it's truly move-in ready.
Our Integrated Approach to Custom Home Design
Our turnkey design services are part of what makes our firm unique. We oversee every detail of designing and building your luxury custom home from start to finish to provide you with the most enjoyable, stress-free experience possible. Hiring a custom home builder provides the chance to create your ideal living space, whether it's a sleek and minimalist modern home or a cozy and traditional farmhouse.

With a custom home builder, you can bring your vision of a modern home to fruition, incorporating clean lines, open floor plans, and innovative materials to achieve a contemporary aesthetic. By collaborating closely with the builder, you can ensure that every aspect of your modern home, from the architectural design to the selection of fixtures and finishes, aligns with your personal style and preferences. The result is a stunning, cutting-edge residence that combines functionality with striking visual appeal.
Assembling Your Project Team & Creative Vision
After signing on with West of Main as a client, we assemble a dream team of trusted collaborators whom we work closely with to bring your custom home to life. These key partners include a builder, an architect, and various contractors that we constantly communicate with throughout the project.
To start our process, we enter a creative concept phase where we pull together a vision for the exterior and interior of your home, consulting our architect along the way to ensure our ideas are feasible. We pull elements of inspiration you may have shared with us, and pair them with our original ideas to create an overall look and feel for your home.
Drafting Final Plans & Selections
After we receive feedback and make revisions to ensure all your needs and wants are met, we dive into the technical planning and selections for your space: finishes, exterior materials and facade design, landscape greenery, hardware, lighting, plumbing, custom millwork designs, custom upholstery, furniture – even cutlery if you desire!
Custom Home Build & Furnish
After the final presentation and review with you, we connect with our builder, millworkers, and specialized artisans to execute what we've designed, visiting site frequently to ensure quality control throughout the process. We also place orders for all of the beautiful selections we've made together!
When the building phase is complete, our team executes your furniture and decor installation – the final, and truly transformative, component of your project. Expertly layered and styled furniture and decor is what allows your custom luxury home to fulfill its true design potential and intention. It's what breathes personality into your space and makes it feel unique to you. After our designers completely furnish and accessorize your new home, get ready for an impactful and wow-worthy home reveal!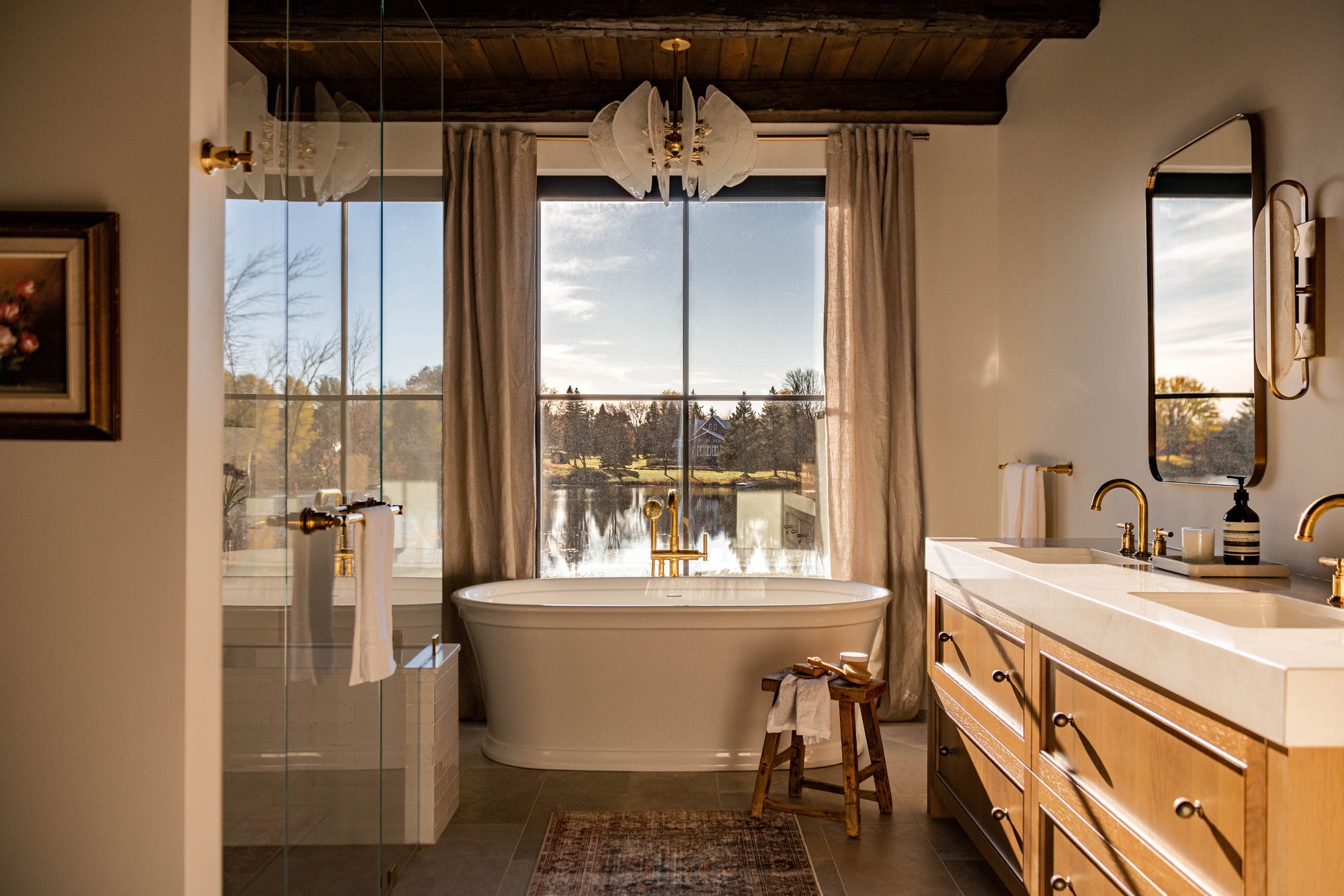 Our Turn-Key Custom Home Design Services Include:
Scope of work documents
Sourcing trusted project partners like a builder and an architect
Complete project & budget management
In-person site visits for quality control
Creative concept development & design mood boards
Space planning
Concept & final selection presentations with clients
Design revisions based on client feedback
Material & finish selection
Fixture selection
Specification documents
Interior design drawings (CAD)
Landscape design, if requested
Millwork drawings (CAD)
Lighting plans (CAD)
Architectural drawings (CAD) for construction
Furniture & upholstery/fabrics selections
Accessory selection
Trades facilitation & coordination
Care packages warranty documentation for furniture and specialty fixtures (ie windows, appliances, custom upholstery, etc)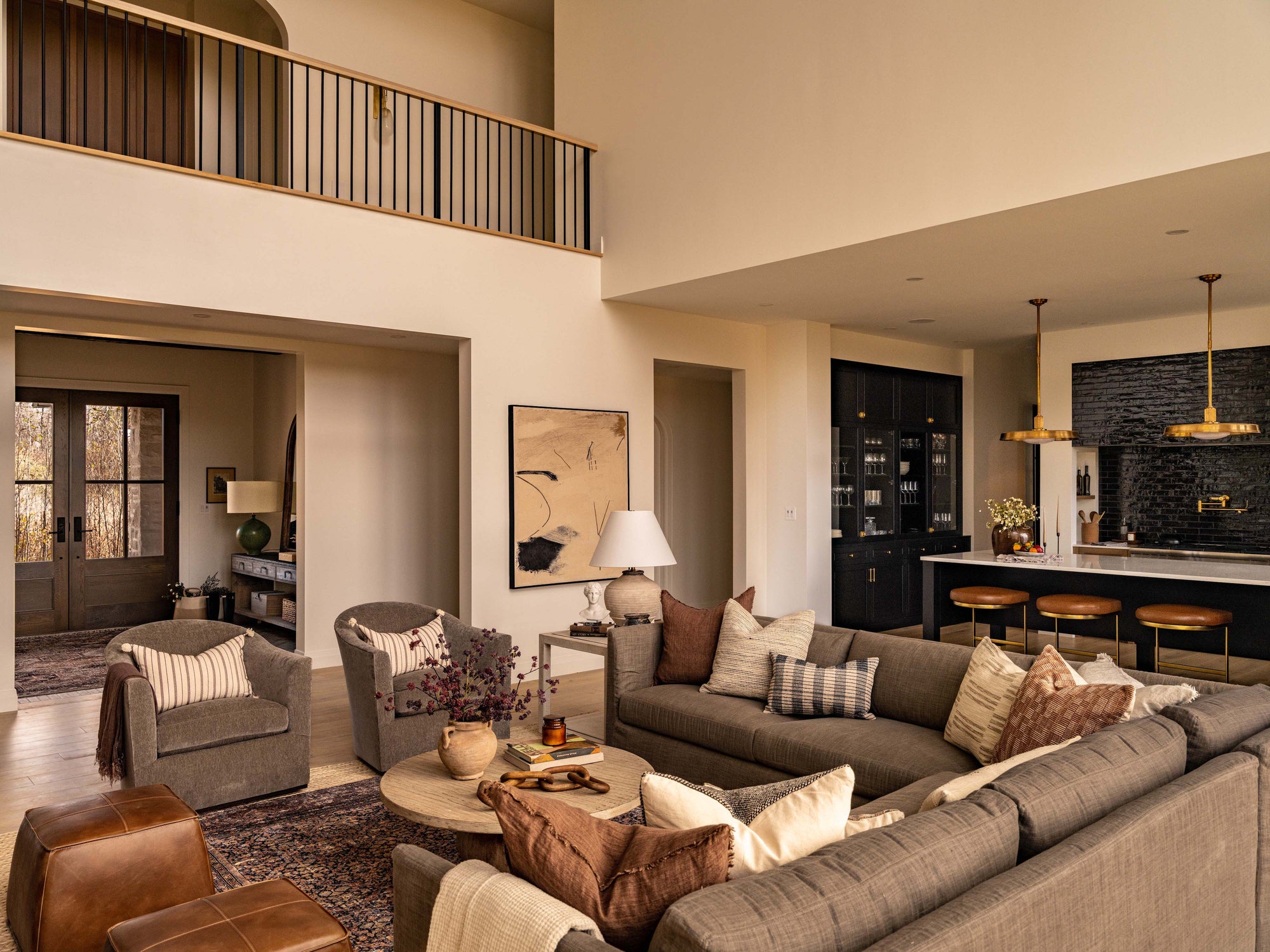 A Custom Home Design Case Study: Project New House Old Charm
This project is a great example of what can be accomplished when clients come to us at the very beginning of the design process before bringing on any partners like architects and builders.
Our clients came to us with an empty plot of land, some inspiration, and a wishlist of features they wanted in their forever home – things like ample room for hosting, a gym, a creative/music room, a golf simulator space and more.
Why Hire A Custom Home Designer?
There are several reasons to invest in a custom home designer when building, but put simply, it will save you disappointment, money, and stress.
Avoid Disappointment
Often when people don't involve a designer in the construction of their custom home, there are design considerations that are overlooked simply because they are not in an architect or builder's everyday realm of expertise. Things like:
Home flow: designing spaces that are reflective of your lifestyle and make sense for everyday use
Vantage points: we think of the elements that you see from every angle of each room. When you wake, what is your morning view? When you're relaxing in front of the fireplace, what do you face?
Statement features: beam ceilings, statement window design, architectural curves, unique tile applications
Contextual window design: window size based on the amount of natural light that the space will need, placement based on the privacy needed in the room, placement based on the planned furniture layout of the room
These are the details that make the homes that you save in your Pinterest inspiration boards. And if they're overlooked, you risk a final result that doesn't live up to your expectations – which is not what you want after making such a large investment!
Save Money
When certain structural and design elements aren't considered and planned for at the start of the project, it can be costly to implement them down the road. For example, if you decide you'd like to have stairway lighting, it's most cost-efficient to plan this from the get-go rather than having to redo electrical work and drywall after your finished walls are already up. Other similar examples include integrated sound systems, practical details like a pot filler over the stove, custom millwork that hides eyesore appliances, etc.
Hiring a custom home designer also helps your dollar go further. We can advise you on areas to splurge and places to save when designing your home to create the greatest impact. For example, we may suggest investing in custom millwork in your kitchen and panelled kitchen appliances for a seamless look. To keep your kitchen on budget, we may then opt for a more affordable quartz counter over natural marble. With our years of experience sourcing different products, materials, and finishes, we can also suggest quality lookalikes/alternatives that are more economical, and we know what brands will last over time.
Avoid Stress
There are so many moving pieces when building a new custom home: a million decisions to make, problem-solving, research, scheduling, sourcing contractors and products… A builder may be able to assist in some capacity with these things, but the reality is a lot of this work is left to you and it can make the process very overwhelming. Bringing on our designers allows you to participate in the fun, creative aspects of the process while leaving the rest to our team of experts. This way, you can enjoy the experience – worth it when your custom home can take up to 2 years to create!
When Should I Approach Your Design Team?
You should connect with our design team as soon as you know that you'd like to build a new custom home! When you have your property to build on, we should be the first people you connect with – before your architect or builder. Doing this gives us the chance to tap into our network of trusted collaborators whom we've had positive experiences with to assemble your project team. This allows us to have better control over the process and set your project up for success.