This traditional-style home backs onto one of Ottawa's largest golf courses. Our clients, who are avid golfers, wanted to make their main floor suit their taste by hiring the West of Main design team to select new paint, drapery, lighting, and furniture throughout.

Features Entry, Dining Room, Breakfast Nook, Living Room, Piano Room, Powder Room, Sunroom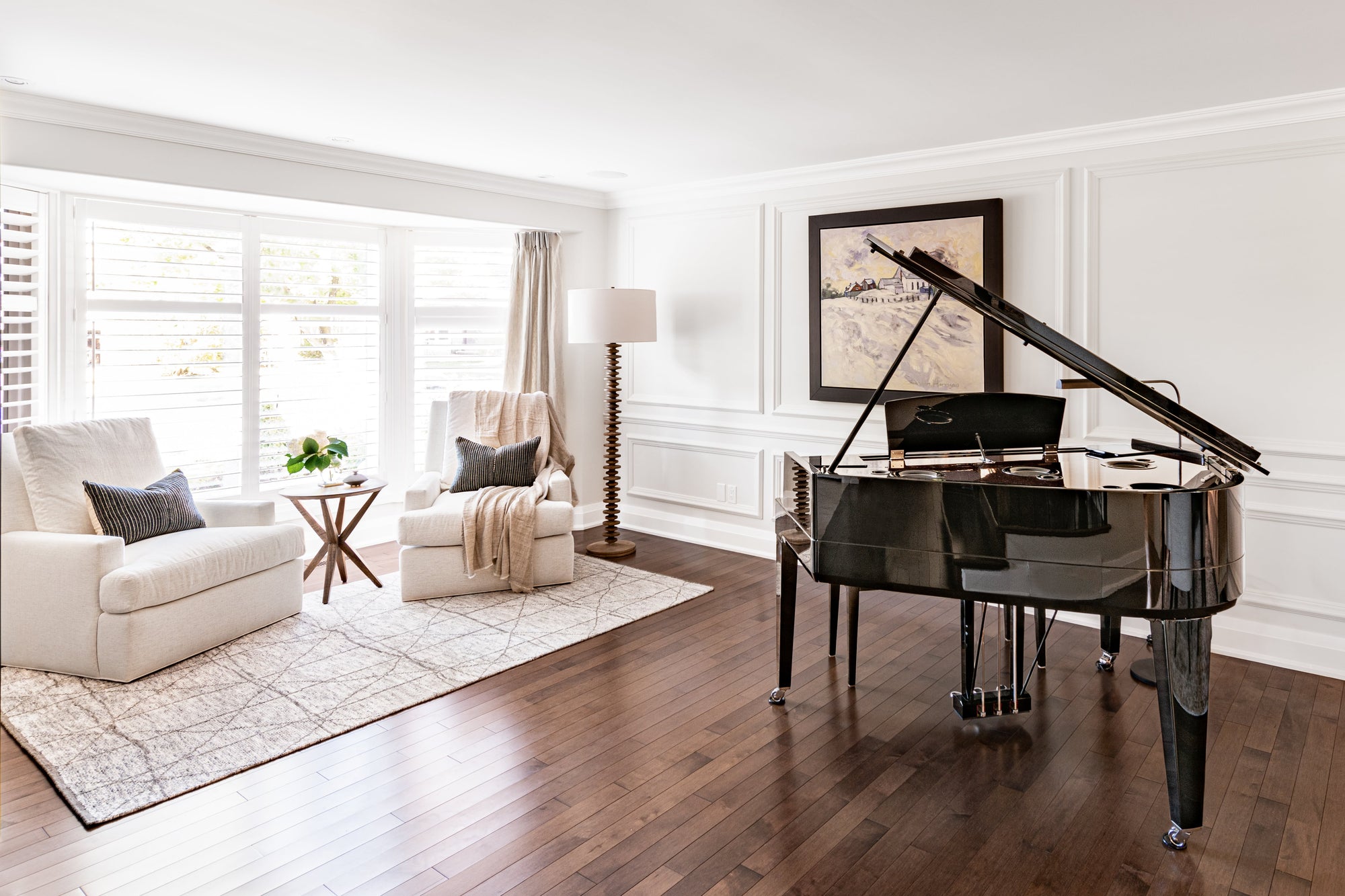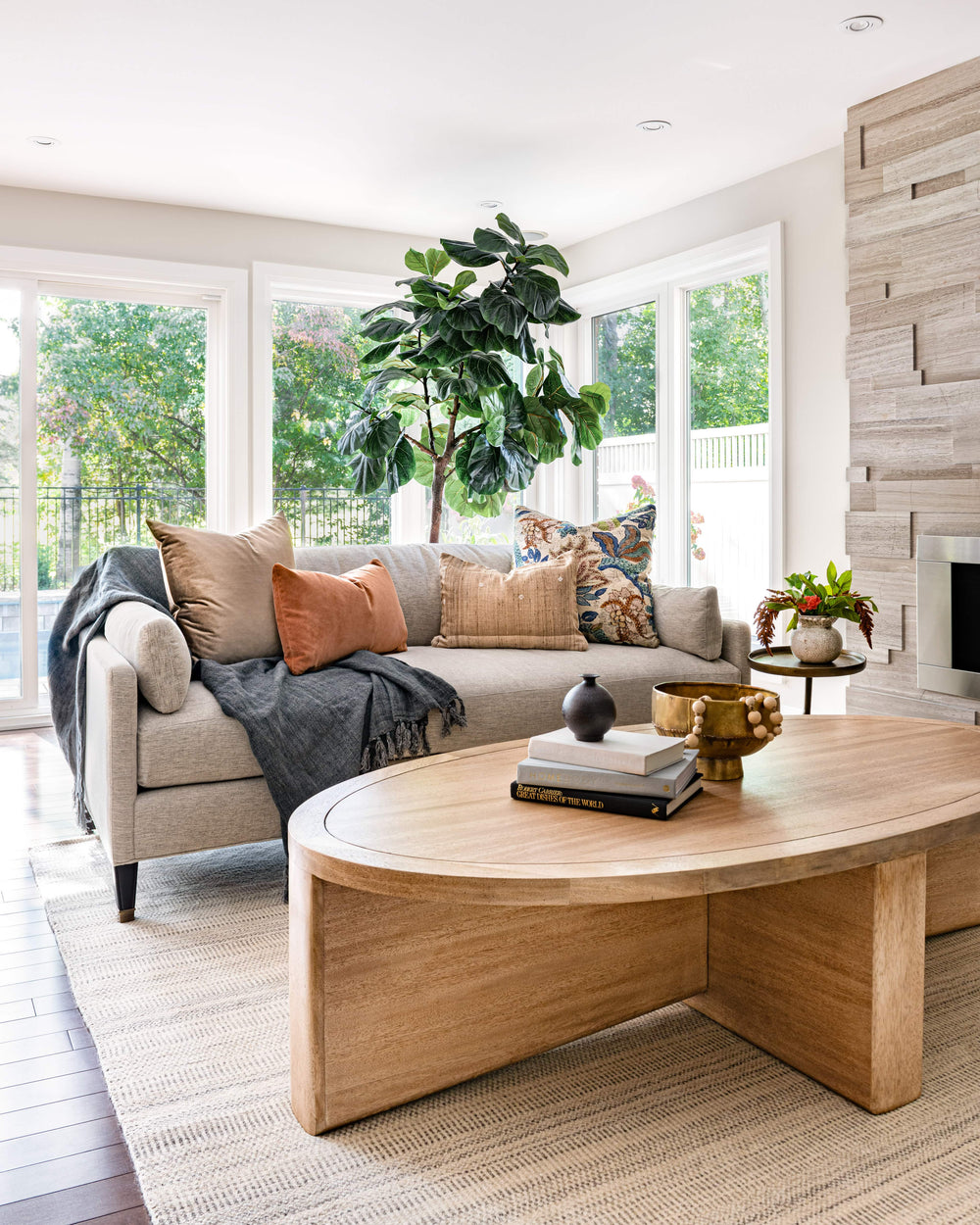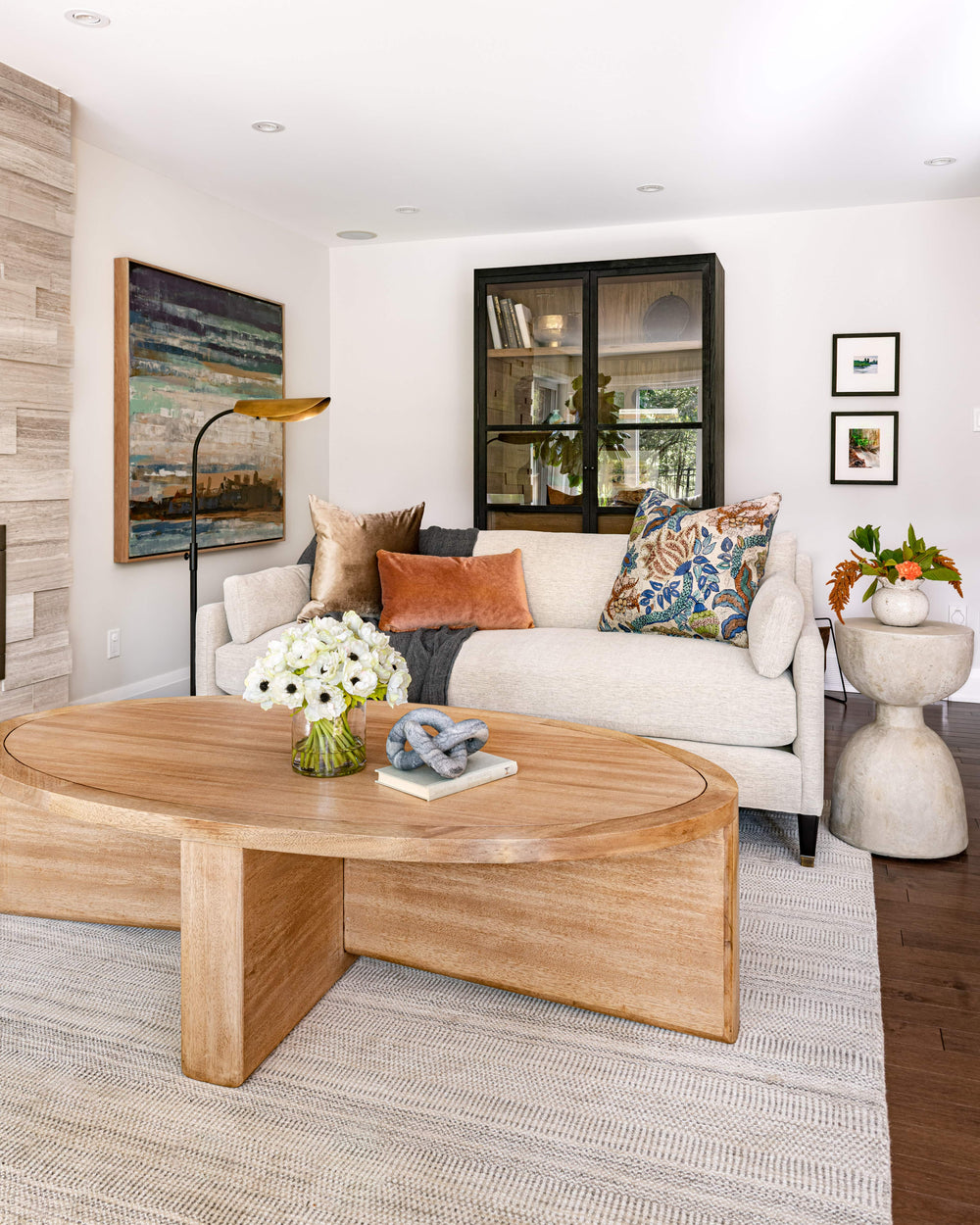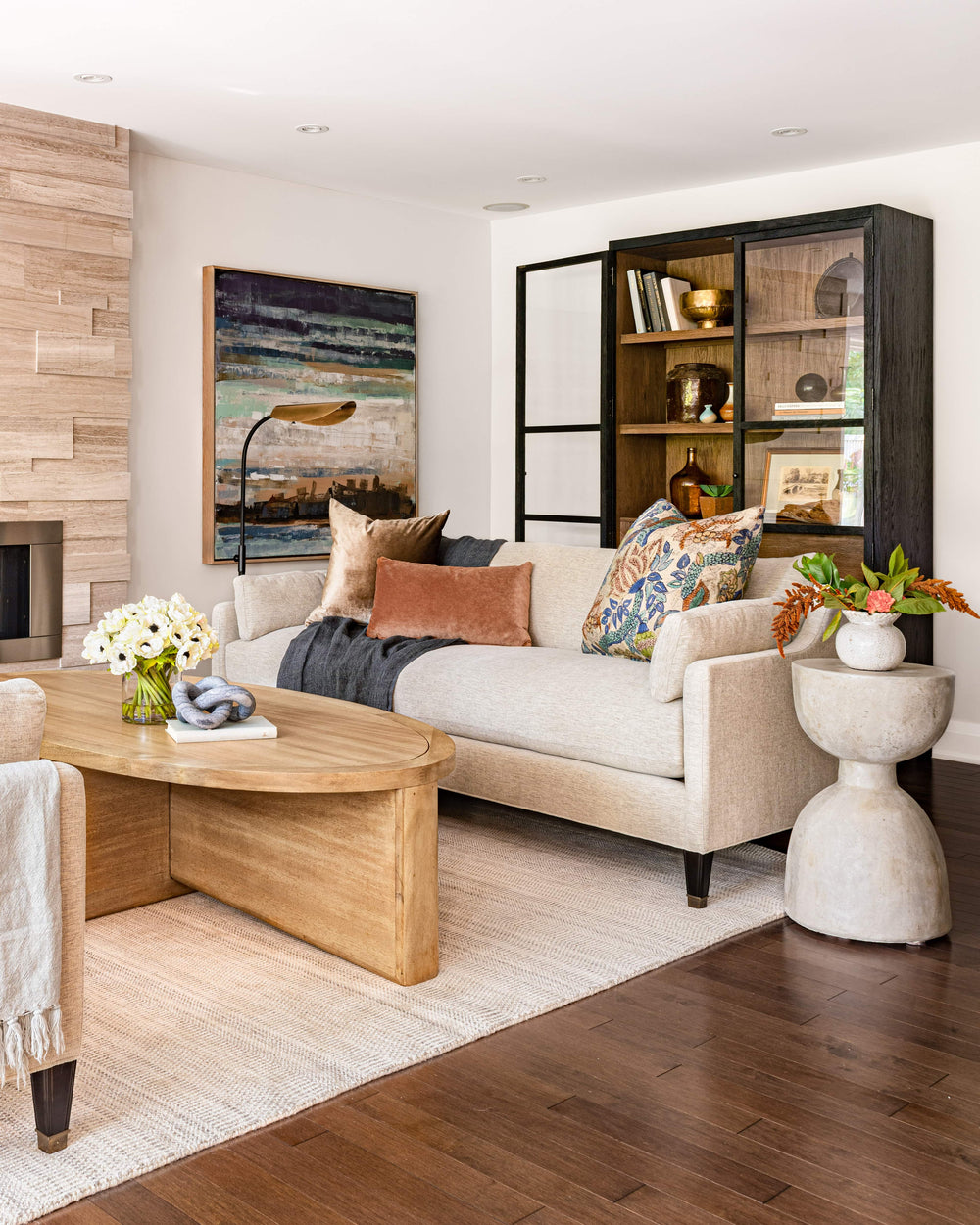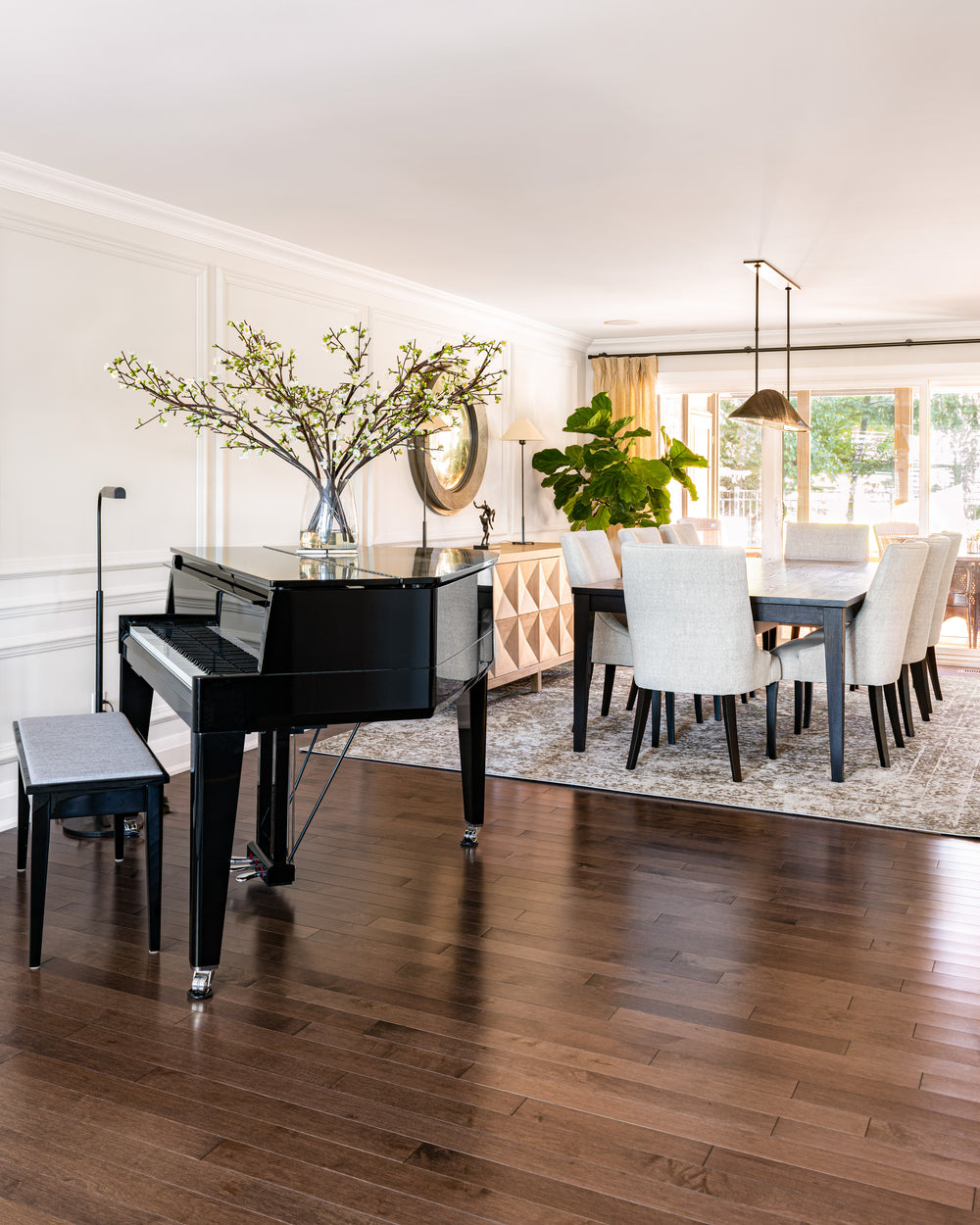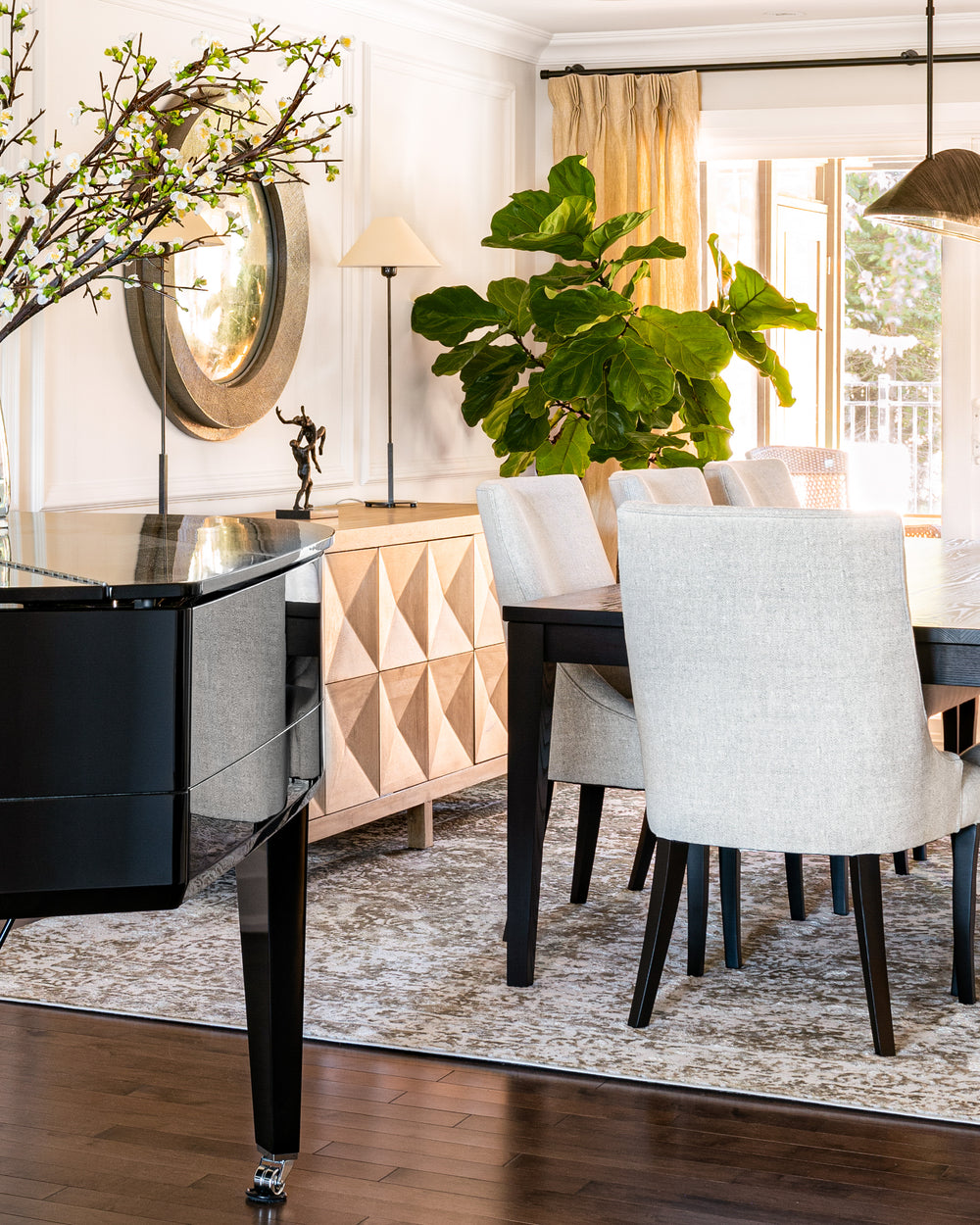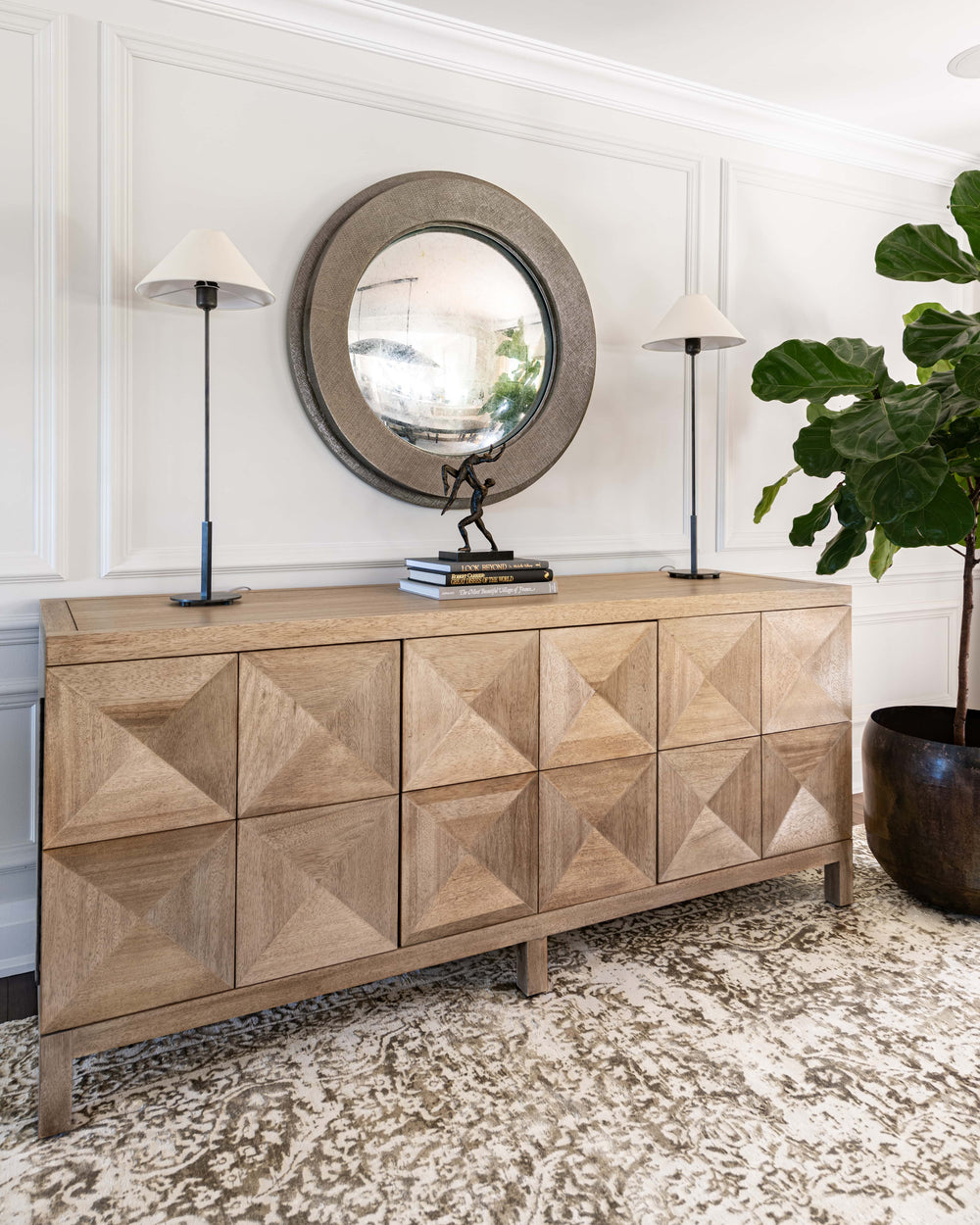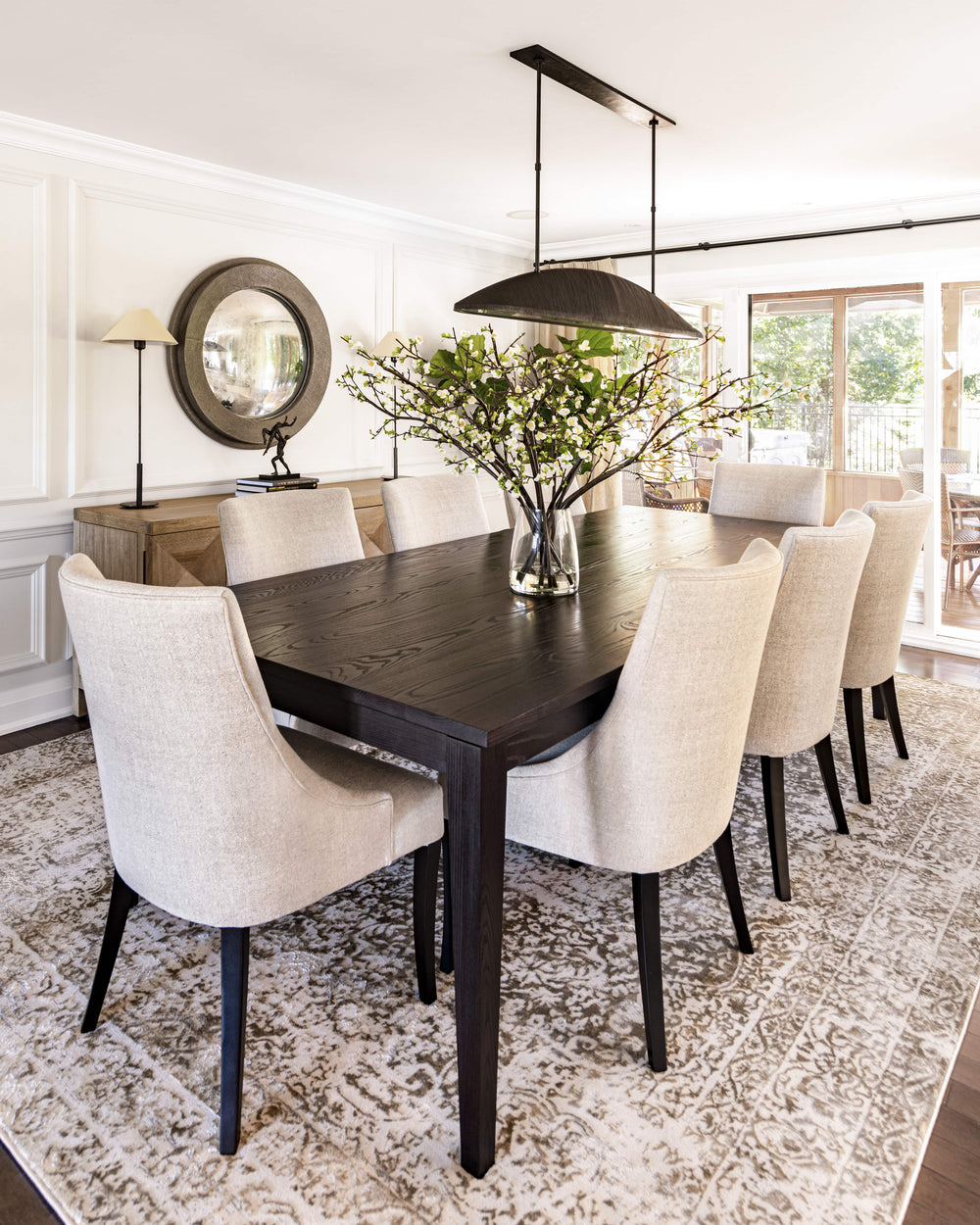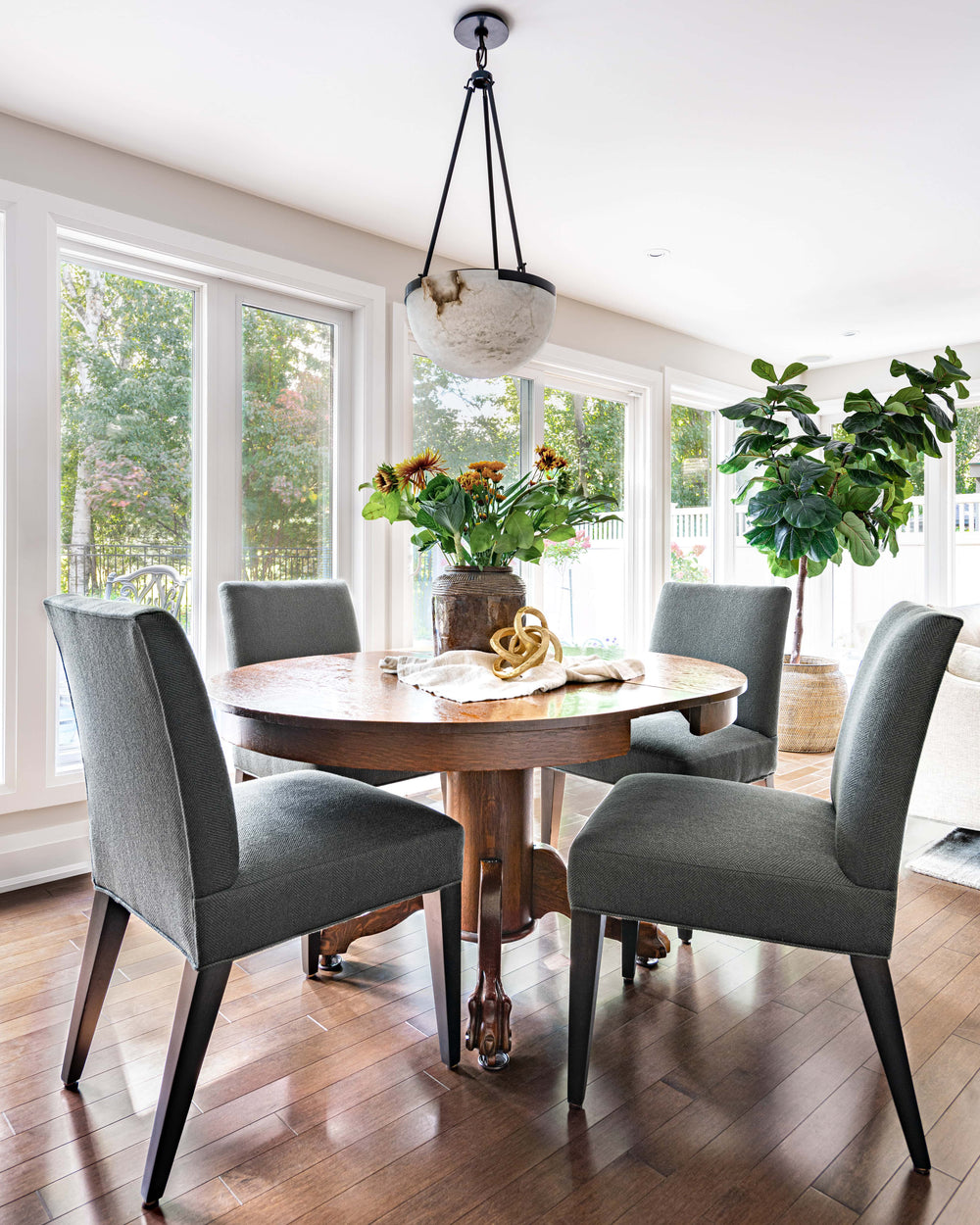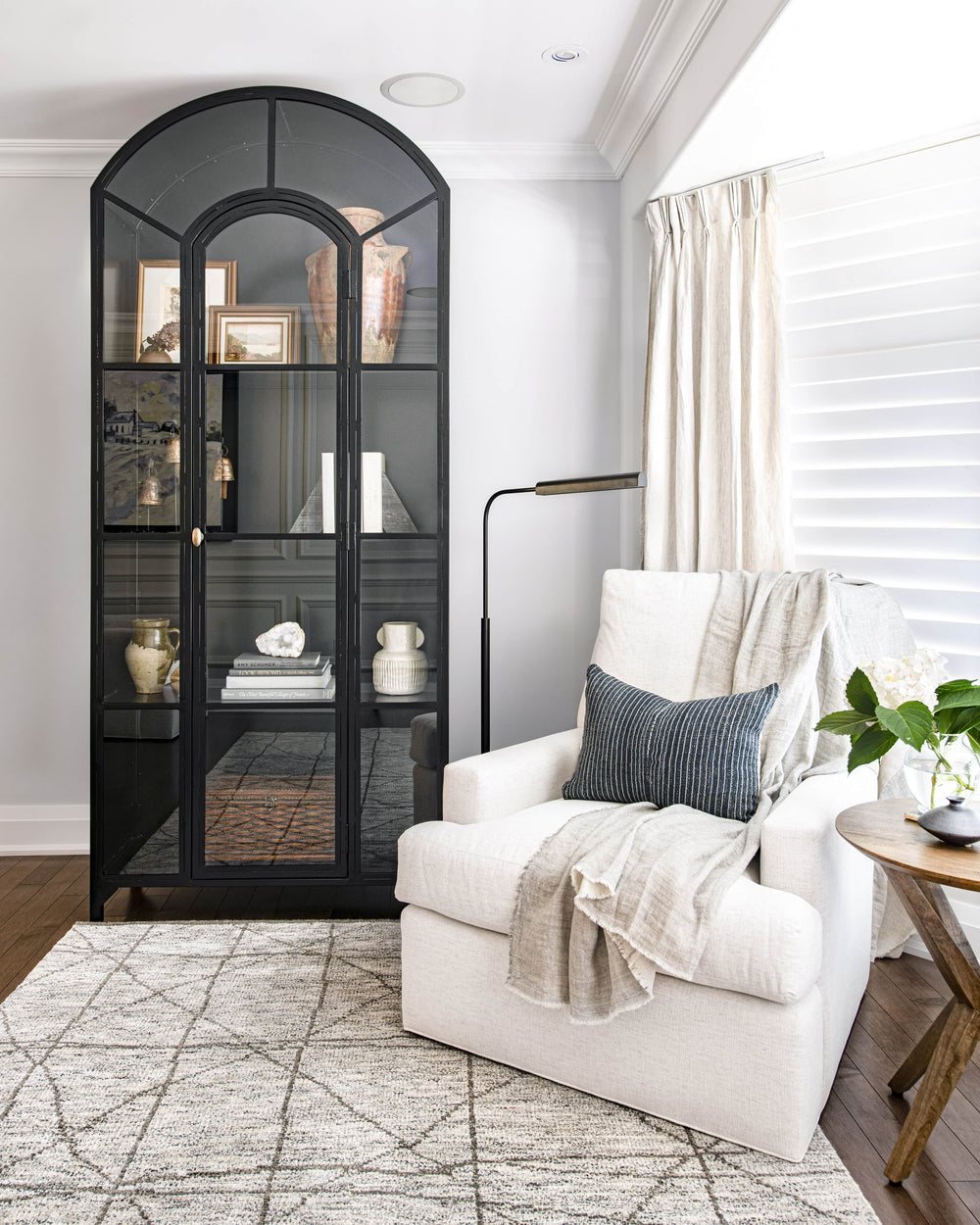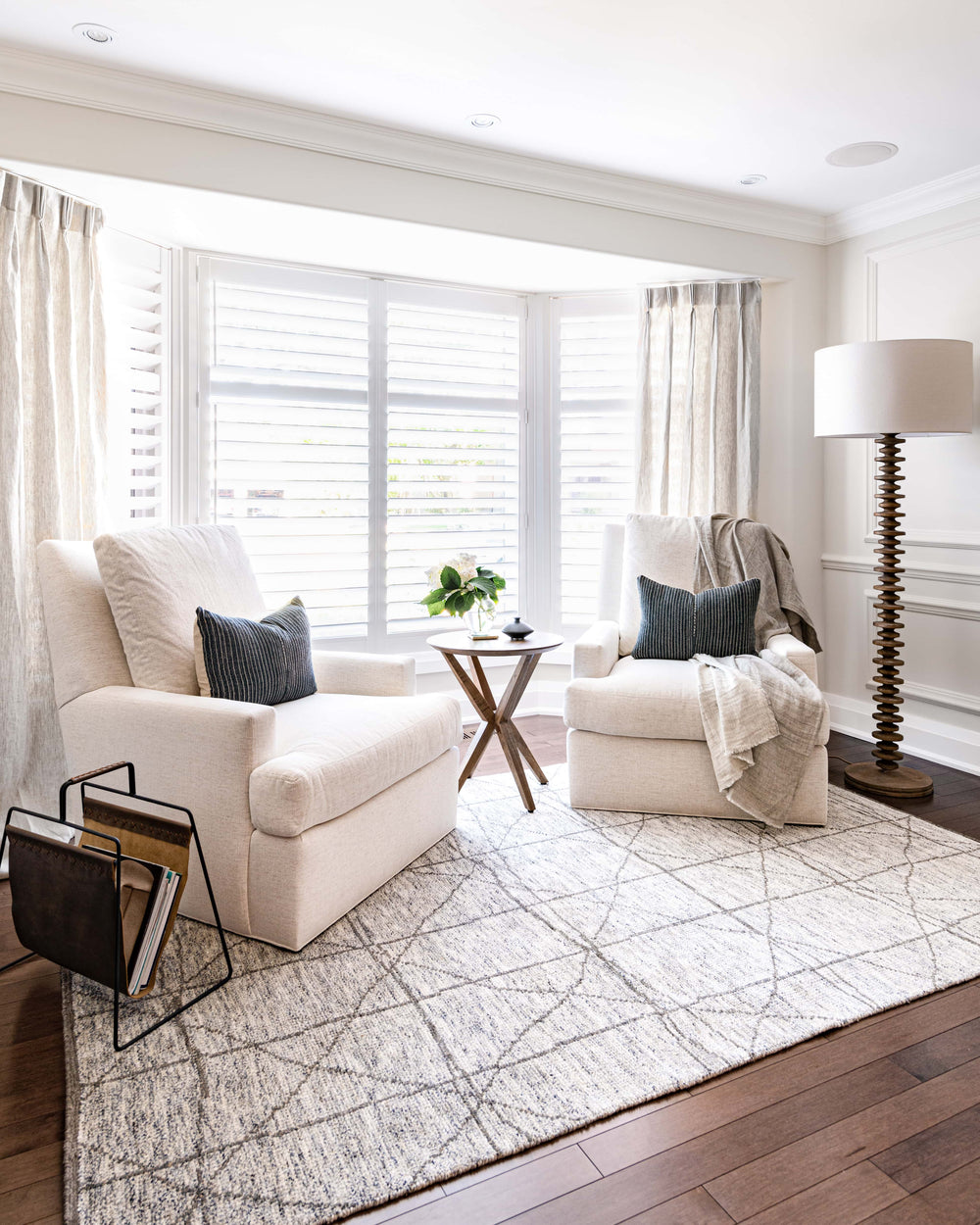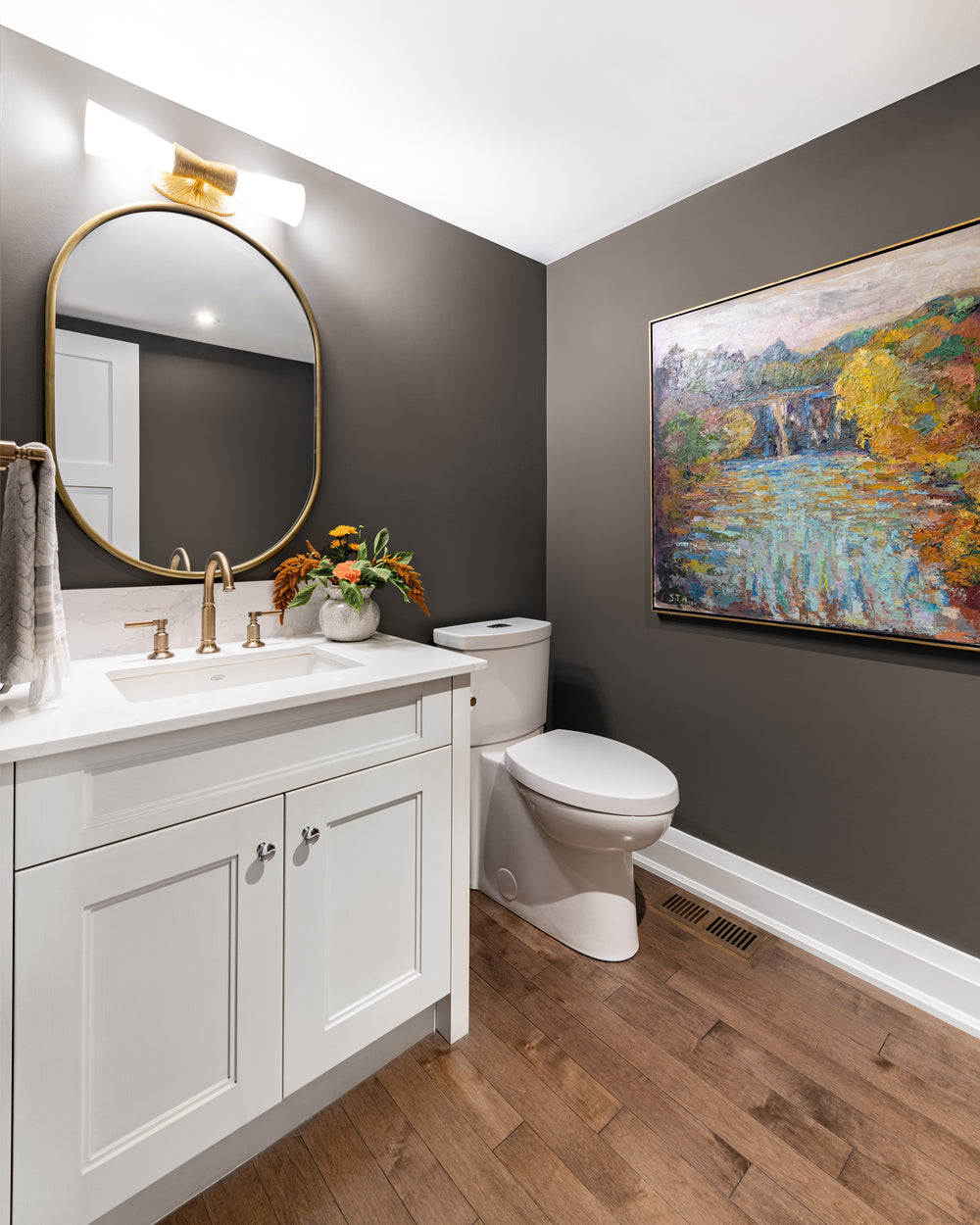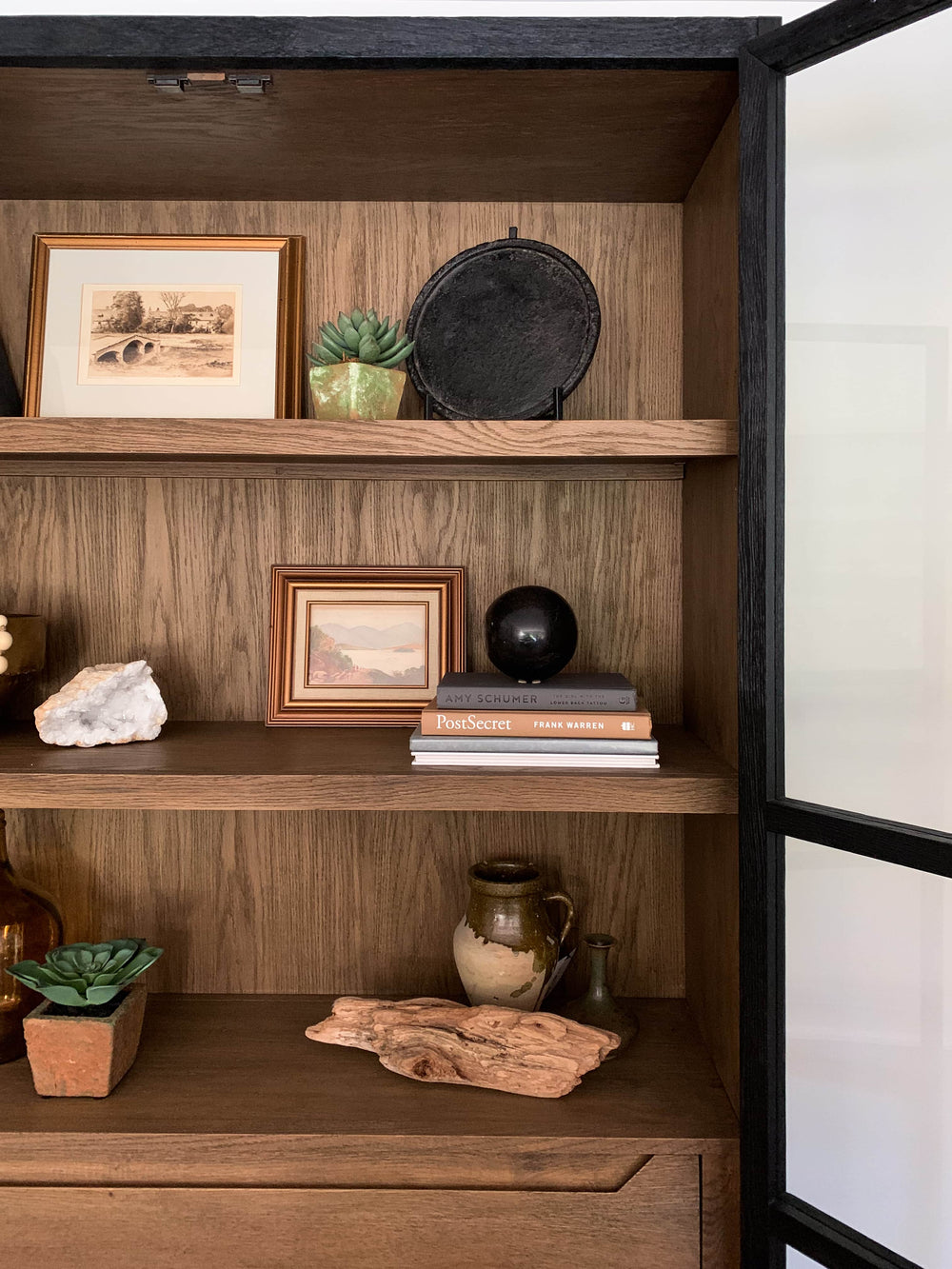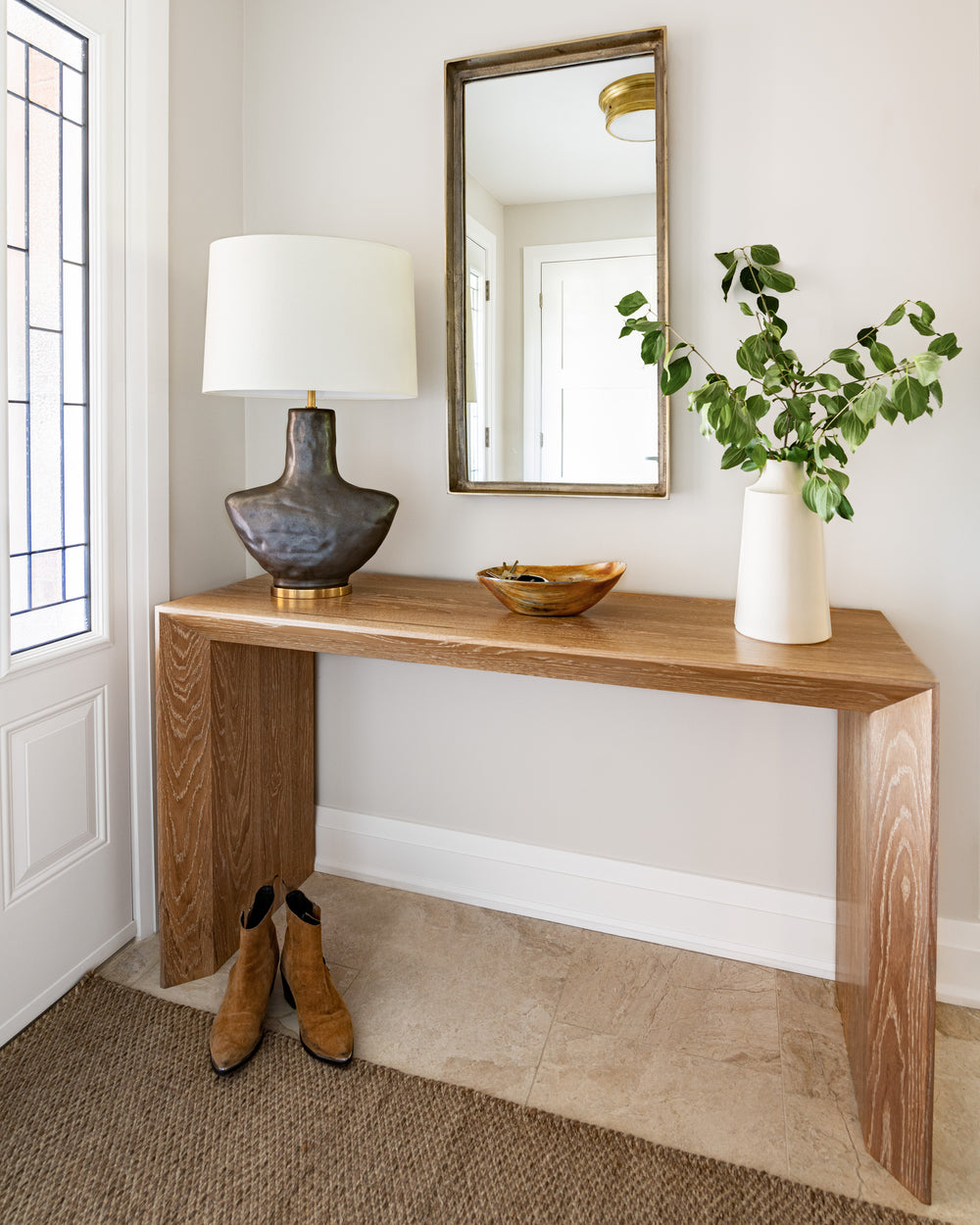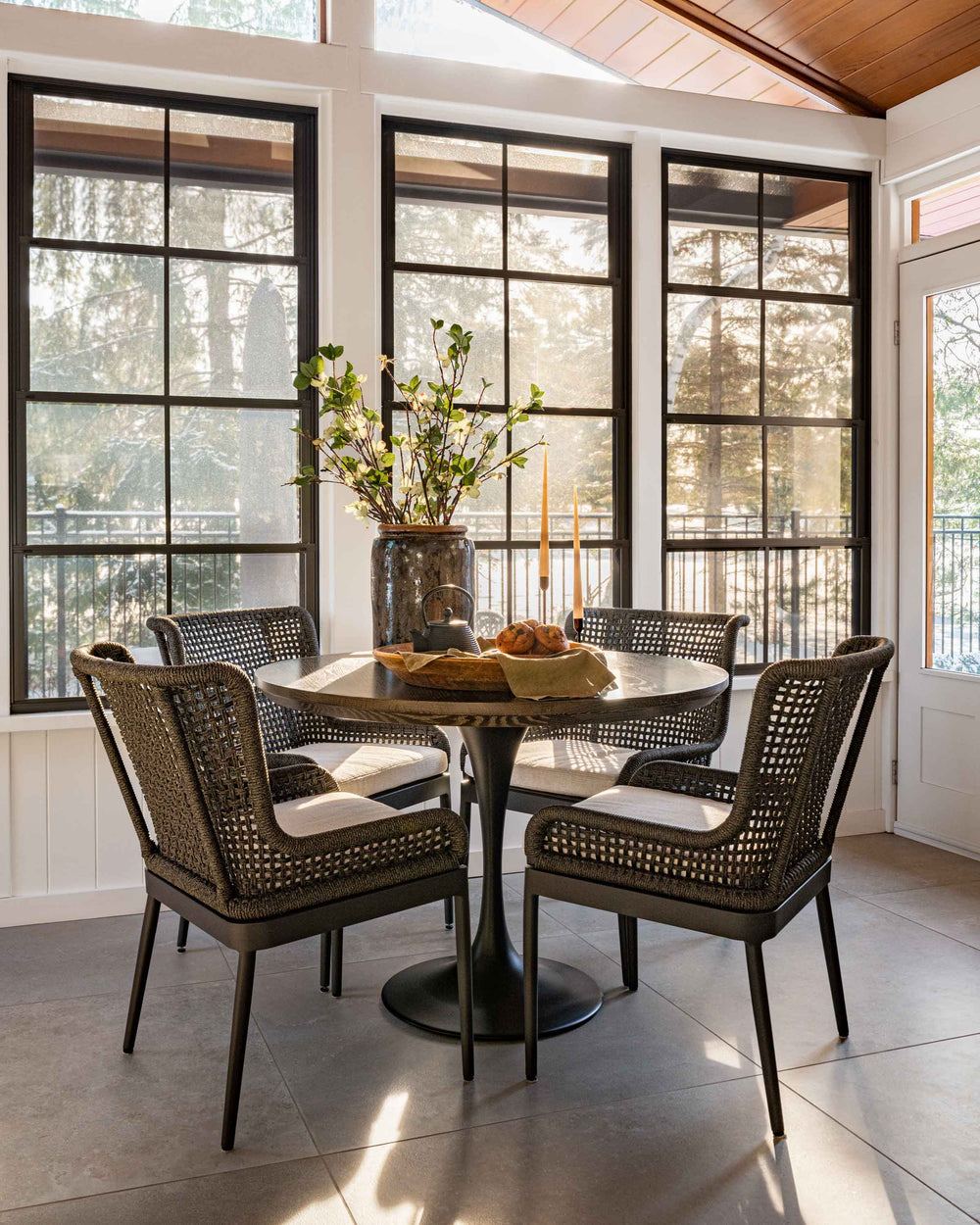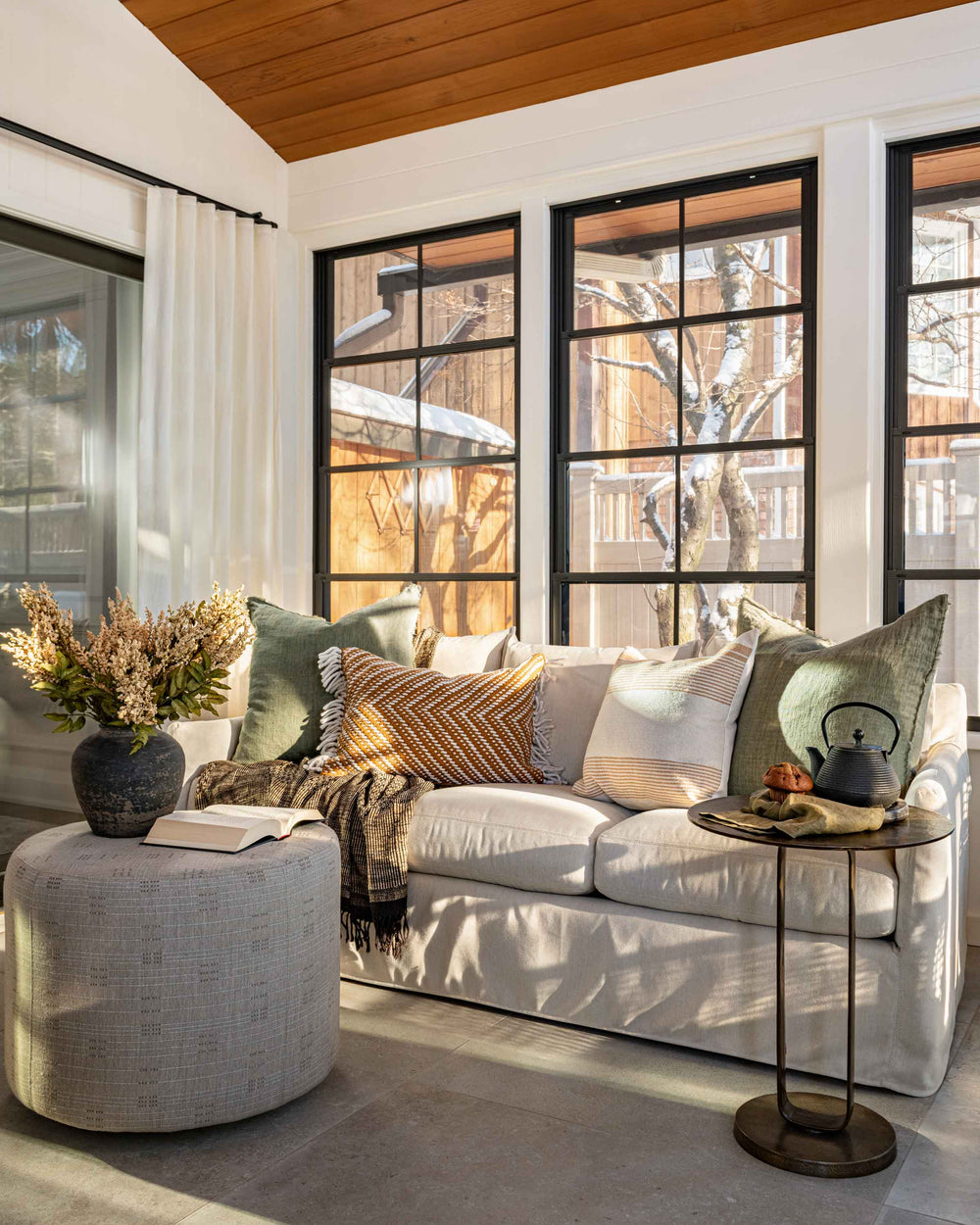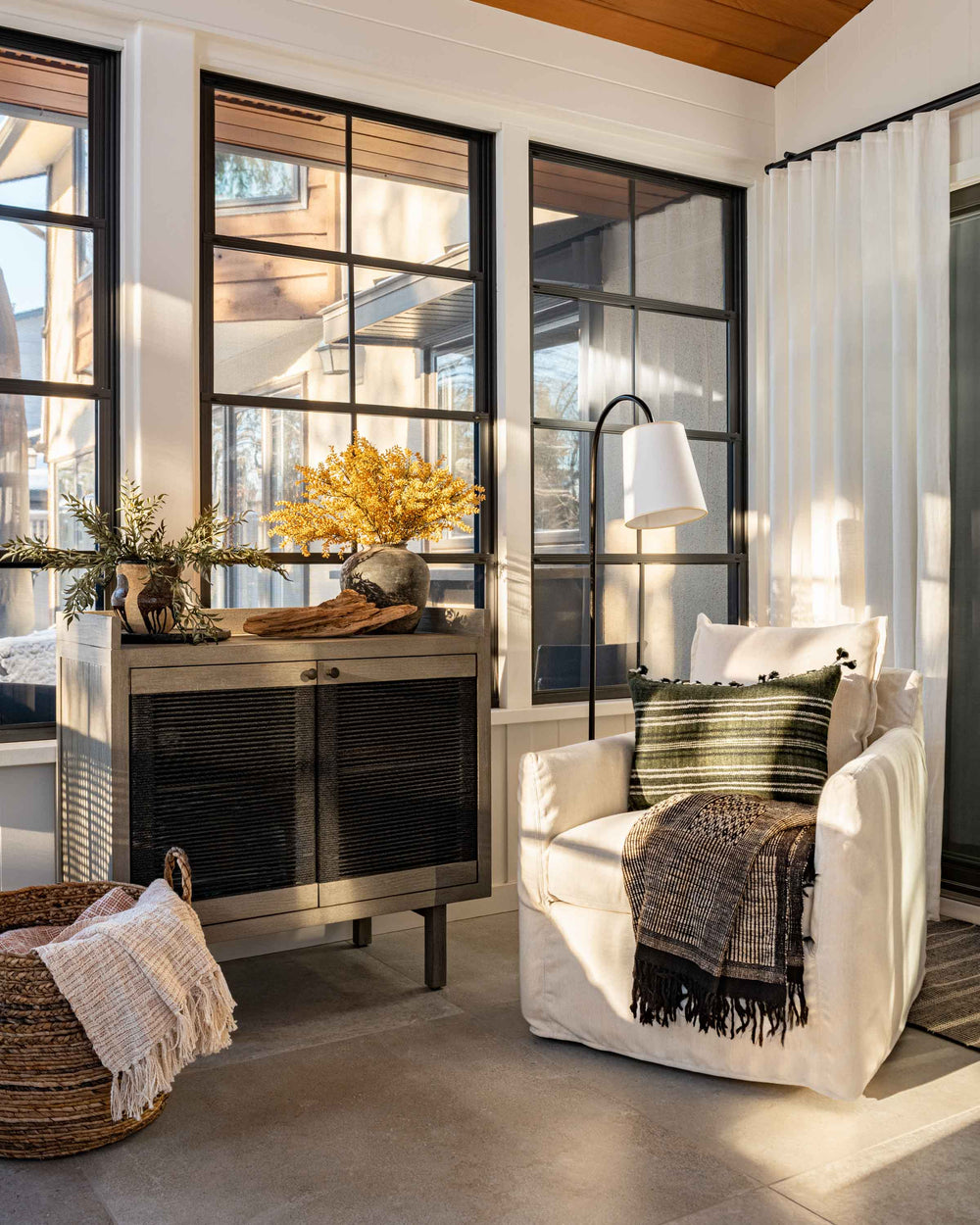 Entry
Simple and sleek is what this entry is all about. With a beautiful custom-built console table to perfectly fit the proportions of the entrance, this small area makes a big impact when entering the home and sets the tone for the rest of the design. We kept this space light and bright with a few textural pieces to bring in some earthiness in true West of Main fashion.
Shop: Flush Mount, Similar Beton Table Lamp, Area Rug, Bowl

Dining Room
The dining room of this home is charming, timeless and elegant, all without compromising comfort or practicality. The first thing we did in this space was add custom decorative mouldings to the wall for that traditional, classy feel and painted the walls in a crisp off-white: Classic Gray OC-23 by Benjamin Moore.
When we started to envision our design for this room we were captivated by the Utopia Large Linear Chandelier, which is a stunning fixture designed by the fantastic Kelly Wearstler and inspired by the Sand Dunes of California. Acting as a streamlined floating sculpture, the light is finished in aged iron to bring in some of the darker, more rich tones carried throughout the home. We used this fixture as a jumping-off point which set the scene for the rest of the pieces to come.
When selecting pieces for this space we were provided with the challenge of trying to find a dining table which fit both the width and length of this room. For this reason, we went with a custom-built, roasted ash-finished table than provides ample seating for the entire family. The table provides room for eight custom upholstered dining chairs which are part of our custom furniture collection, the WoM Collection. Finished in Crypton fabric, these timeless chairs will stand the test of time (and fight any stains from the grandchildren!).
When working with open-concept spaces such as this, we love to use rugs to make a clearer separation between rooms. Keeping it practical, we went with a low-pile, polyester rug making it easy to pull chairs in and out and easy to clean! The Patina Area Rug's champagne and light grey colours keep it airy, but still help to ground the larger, more substantial pieces. To keep this room interesting and add to the sculptural accents, we selected the Saliba Sideboard. This sideboard features a geometric quadrant detailing on the front in a stunning light wood tone which helps to contrast the dark table. 
Also Shop: Similar style table lamp – Dauphine Table Lamp

Breakfast Nook
This breakfast nook is just as classy as the dining room, boasting timeless silhouettes and materials that are showcased by the ample amount of sunlight that floods in throughout the morning. This once-small transitional area now makes us want to pour ourselves a coffee and sit at this solid wood antique table as we watch the sun come up. We love working with heirloom pieces that have a special place in our clients' hearts, and this table was no exception. 
To complement the rich mahogany wood table, the dining chairs were once again custom created in a performance fabric, this time featuring a delicate herringbone pattern.
We selected the Medora Pendant which features a natural alabaster shade with a subtle patina, to help add some additional vintage character and keep the space from looking too new. The visual mass of this light helps to define the space, making sure it doesn't get lost with the larger personalities of the spaces around it. To top it off, we added delicate florals in a rustic vintage piece of pottery- a juxtaposition we can't get enough of. 
Also Shop: Knot Sculpture

Living Room
The heart of this home is simple with a bit of an edge. We had fun playing off of the custom cushions we created with a botanical print that inspired the palette of the design. The colourful pops of blues and rust stand out against the neutral palette of the statement pieces of furniture in this room. Two Rhone Sofas face each other for the ultimate conversation space. We love the silhouette of this WoM Collection Sofa – the curved arms, low back and bench seat cushion add a professional look for a more formal living space. Perfect for enjoying the existing modern fireplace.
Centred in front of the fireplace is our Dayton Coffee Table, with an oval silhouette that fits perfectly in this space and a sturdy cross-shaped base that adds another unexpected detail. The room wouldn't be complete without our beloved Frankfurt Cabinet, which we placed behind the sofa as a feature beside the client's custom artwork. We love the way the black oak frame of the cabinet stands out, contrasting against the brighter elements of the room. The glass front doors offer guests a view of some of our clients' most treasured items – acting as both a point of visual interest and a conversation starter!
Also Shop: Side Tables, Floor Lamp, Floral Arrangement

Piano Room
An important request from our clients was to include somewhere where they could play their piano. We immediately knew we wanted to place this near their dining room so any spontaneous music playing could occur while hosting a dinner. Luckily, this also meant that it would be situated near the stunning bay windows on the front of the home. This romantic little area is the perfect spot to unwind, enjoy some ivory keys, and admire the design of the other spaces. We chose a soft hand-knotted wool rug with a fun geometric detail for this space as a layer to help separate this room from the dining room.
We couldn't pass up the opportunity to place two Carver Swivel Chairs from our WoM Collection here for the ultimate cozy nook. The crisp white tone of the fabric feels fresh against the white walls and daylight. We opted to contrast all of this brightness with an arched black metal cabinet for an industrial edge, to house lots of books for this reading nook. 
Also Shop: Floor Lamp

Powder Room
In this powder room, we went for a moody statement with the paint selection, opting for a dark grey (Benjamin Moore Chelsea Gray HC-168)
which perfectly showcases the brightness of the gilded sconce lighting and pop of colour from the clients' original artwork. 
Also Shop: Similar style Round Gold Mirror

Sunroom
With this sunroom, the clients wanted somewhere they could cozy up, summer or winter, and enjoy the view of their yard. After all, it's winter for six months of the year here in Canada! The sunroom's high vaulted ceiling finished in natural pine wood planks brings in natural textures that create a cottage-like feel, transporting you to a whole other place. The floors were refinished in a large-format 36" x 36" porcelain tile with a concrete effect. We finished the walls in our favourite Steam (AF-15) by Benjamin Moore to make it light, bright, and airy.
With the furniture plan, we created two separate areas within this space to maximize its use and give it more ambiance. The bistro area perfectly faces the outdoors, as it sits in front of the large facade of windows. We selected a classic pedestal table to not occupy too much floor space, but can still seat four. We opted for outdoor dining chairs which feature a durable synthetic rope finish which is more resistant to fading – perfect for combating those strong UV rays. The intricate silhouette of these chairs creates a more formal feel to this romantic dining nook, while the textural woven back adds even more dimension to the space.
The lounge/seating area of the sunroom is so inviting; we definitely could have stayed here for days! We went completely custom with the pieces in this space to ensure a long lifetime in the sunlight and with indoor-outdoor traffic. We started by selecting the outdoor slip-covered sofa in a bright cream Sunbrella Fabric. Sunbrella Fabrics are ideal for indoor and outdoor spaces thanks to their robust performance grade, and sun degradation and fading capabilities. The slip-covered finish means it's even easier to clean – just throw the cover in the washing machine. This fabric choice means the clients can enjoy this space often and worry-free! On the sofa, we layered some bright-coloured throw pillows and contrasting throws for even more coziness. 
Since this space was narrow, we opted for a cocktail ottoman on casters rather than a coffee table so that it can easily be moved, freeing up needed circulation space. The outdoor swivel chair in this space has the perfect proportions and offers quality comfort without having a bulky form.
Also Shop: Similar style outdoor dining chair, Floor Lamp, Side Table, Indoor/Outdoor Rug